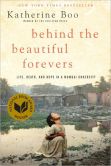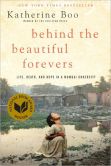 Dear Reader,
The 2012 Discover Awards were presented last week at a private event in NYC; we've asked our finalists and winners to riff on the books they frequently recommend, and we're running their responses on the Discover blog.
We might actually have run out of superlatives to describe Behind the Beautiful Forevers, Katherine Boo's landmark work of narrative nonfiction; her meticulously reported and deeply compassionate account of Mumbai's Annawadi slum — and its unforgettable characters — is indelible literature.
Susan Cheever presented second place, nonfiction in the 2012 Discover Awards to Katherine Boo, and this is in part what Susan said: "Katherine Boo has brilliantly combined two disparate visions: this a compelling human story about family and alliances and feuds and a startling lesson about the brutality and violence of the slum dwellers. Although the slum is hell, Boo's sympathy for its residents—especially the children—bridges the gap with sympathy."
We asked Katherine to tell us about three books she's currently recommending, and here's her list, which includes a May publication she can't wait to discuss with other readers, a landmark work of narrative nonfiction set in the Bronx, and the novel that made her ask, "How can a short, biting book manage to contain so much of the world?"
Roberto Bolaňo, By Night in Chile

I once heard the fiction writer Nicole Krauss say that she turned from writing poetry to writing novels because the novel's unmasterable form freed her from her own perfectionism. She's probably right that the novel form defies flawlessness, but this Bolaňo novel is about as close to perfect as anything I've ever read by a contemporary writer. It also poses a literary mystery for me as a reader: How can a short, biting book manage to contain so much of the world?

Bolaňo's construct in By Night in Chile is a hallucinatory deathbed confession–the account of a poor boy who longed to be a poet but instead became a toadying priest in the service of Pinochet and his generals. The priest's retelling is rich, witty, moving, and ludicrously partial. So before long, the reader finds herself in a study of (among other things) the many ways in which oppressive regimes degrade the intellectual and moral potential of individuals. By Night in Chile has important things to say about the nature of power, the politics of art, and the relationship between complicity and self-delusion, but it's also something very simple: a captivating reading experience.


George Packer, The Unwinding: The Inner History of the New America

I read an early copy of this narrative nonfiction account of how the American social contract unraveled over the last thirty years, and now I'm impatient for the book's May publication so that I can talk about it with other people. The story of how this country became so unequal, and our institutions so unstable, is told from the perspective of the winners and losers both: a toothless would-be Wal-Mart worker, a woman on a Midwestern assembly line, an undercapitalized South Carolina entrepreneur, radical Silicon Valley futurist Peter Thiel, even Oprah Winfrey. Packer's ambition in this book is audacious; he acknowledges a debt to Dos Passos's trilogy U.S.A. But the reporting, writing and analysis are of such a high standard that that I think comparisons with classics are earned.


Adrian Nicole LeBlanc, Random Family: Love, Drugs, Trouble and Coming of Age in the Bronx

The term "landmark book" is overused, but Random Family, the story of young men and women growing up in the American inner city, is that. By reporting for years in one of the great faultlines of the meritocracy, and by respecting the perspectives of the remarkable people she came to know there, LeBlanc produced a masterpiece of narrative nonfiction. Alternately crushing and exhilarating, and always humane and intelligent, this book instantly set a new standard by which narrative nonfiction was done throughout the world.
Cheers, Miwa
---

Miwa Messer is the Director of the Barnes & Noble Discover Great New Writers program, which was established in 1990 to highlight works of exceptional literary quality that might otherwise be overlooked in a crowded book marketplace. Titles chosen for the program are handpicked by a select group of our booksellers four times a year. Click here for submission guidelines.