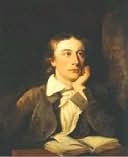 January 31: Onthis day in 1818 John Keats sent a letter to his friend, J. H. Reynolds, whichincluded the newly written sonnet "When I Have Fears that I May Cease to Be."The poem is now one of Keats's most famous, and when it was published aquarter-century after his death, it helped cement the pale-and-dying legendwhich surrounds his last years. Keats had lost his mother to tuberculosis, hisbrother would die of the disease later in the year, and he was already showingsymptoms; the sonnet is often read as poignant prophecy, soon fulfilled:
When I have fears that I may cease to be

Before my pen has glean'd my teeming brain,

Before high-piled books, in charactery,

Hold like rich garners the full ripen'd grain;

When I behold, upon the night's starr'd face,

Huge cloudy symbols of a high romance,

And think that I may never live to trace

Their shadows, with the magic hand of chance;

And when I feel, fair creature of an hour,

That I shall never look upon thee more,

Never have relish in the faery power

Ofunreflecting love;–then on the shore

Of the wide world I stand alone, and think

Till love and fame to nothingness do sink.
And yet Keats's original letter is full of opposite tones,and a different sort of verse. Keats begins with some cheeky lines he hascomposed on a youthful theme—time a-wasting, blushing maidens with"loosen'd hips," and the taste of forbidden fruit:
There's a sigh for yes, and a sigh for no,

And a sigh for 'Ican't bear it'—

O what can be done, shall we stay or run?

O cut the sweetapple and share it!
Keats then apologizes to Reynolds that his buoyant spiritshave the best of him. His intention was to write "a serious poeticalLetter," but "It is a sun-shiny day and I cannot so here goes…."There follows a fifty-line toast to golden sunshine, to friendship, and togetting poetically drunk on "the glory and grace of Apollo":
Hence Burgundy, Claret & port

Away with old Hockand Madeira

Too couthly ye are for my sport

There's a Beveragebrighter and clearer….
---
Daybook is contributed by Steve King, who teaches in the English Department of Memorial University in St. John's, Newfoundland. His literary daybook began as a radio series syndicated nationally in Canada. He can be found online at todayinliterature.com.