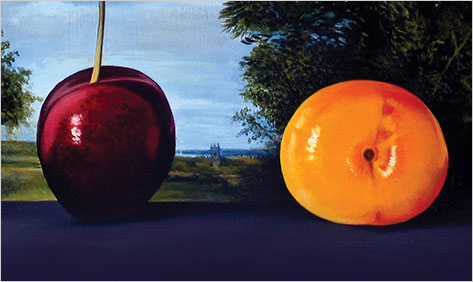 Love may well be a many splendored thing, but the love that most interests Amy Bloom is often inconvenient if not downright inappropriate—yet all the more mesmerizing for being so. Beginning with "Love Is Not a Pie," the opening story in her stunning debut collection, Come to Me (1993), Bloom, a social worker who has practiced psychotherapy and teaches creative writing at Yale, has plumbed the depths of difficult, complicated, intimate relationships with uncommon immediacy, sympathy, nuance, and wit.
The title story and the two quartets of linked stories that dominate "Where the God of Love Hangs Out" focus on passion in forbidden, problematic forms: adultery and incest. This third collection, 12 stories in all, follows Away (2007), Bloom's rousing picaresque novel set in the 1920s about the adventures of a plucky Jewish immigrant's transcontinental search for her lost daughter, a toddler who disappeared back home in Russia during a pogrom. It's not only a return to short fiction and contemporary settings, but a return to two unlikely couples, both of whose sagas she brings to rather sad conclusions.
Julia Sampson and her stepson, Lionel, Jr., were first introduced on the day of Lionel, Sr.'s funeral in the story "Sleepwalking" in Come to Me. They appeared again in two followup tales in Bloom's second collection, A Blind Man Can See How Much I Love You (2000). Conveniently—if somewhat surprisingly–all three stories are reprinted in this new book, along with a final coda, "Fort Useless and Fort Ridiculous." It's wonderful to have them all together. Both of Bloom's quartets are more episodic than chapters in a novel and feature the shifting points of view and narrative hiccups typical of linked stories. But because they progress chronologically, hew close to a central story line, and move decisively toward resolutions that tie up loose ends, they provide many of the satisfactions of long-form fiction without its bulk.
Julia, a part Italian, part Jewish jazz critic, was the third wife of Lionel, Sr., a Grammy-nominated alto saxophonist whom she saved from alcohol while raising their son Buster and Lionel, Jr., his son from his second marriage. Upon meeting seven-year-old Lion, who had lost his mother to drugs, Julia says she saw hope in his eyes and "knew that I had found someone else to love." She adds, "I think because I chose to love him, chose to be a mother and not just his father's wife, Lion gave me back everything he could. He was my table setter, car washer, garden weeder; in 12 years, I might've raised my voice to him twice."
Everything changes after Lionel, Sr.'s funeral, when 19-year-old Lion crawls into bed and makes love to his youthful stepmother, an act Bloom describes with searing honesty. It's a scene that's reminiscent of the consoling sex in the movie "Summer of '42," also between a grieving young widow and a lovestruck adolescent. But in this case, it's a transgression with lifelong consequences. Julia regrets it at once, stating, "I was already sorrier than I'd ever been in my whole life, sorry enough for this life and the next." Wanting to staunch the damage, she sends Lion away—which he interprets as rejection. Years later, their "one shameful, gold-rimmed night together…still runs through her like bad sap."
The three succeeding Sampson stories consider Julia and Lion's abiding awkwardness and gradual rapprochement after a 15-year estrangement. Settled in Paris, he's become an expert in international maritime law but a failure at intimacy. In "Light Into Dark," both sons join Julia in Massachusetts for their first Thanksgiving together in more than 20 years. Intending to hurt, Lion says to his now 60-year-old stepmother, "It's not like we would ever be lovers now." Julia responds sharply, "We were never lovers. We had sex," though Bloom captures the conflicting emotions at play with the immediate qualification, "but this is not what she believes." Julia rues the "knot" in her alcoholic stepson's heart, wondering, "How did we cripple you so?…Couldn't you have been the kind of man who overcomes terrible misfortune, even a truly calamitous error in judgment?"
"Fort Useless and Fort Ridiculous" finds the Sampsons coming together for another Thanksgiving years later. It's clear they've survived as a family. Even Lion, sober and remarried, has reached a measure of equilibrium. Without giving away too much, let's just say that a precipitous plot development leads to what feels like a somewhat hasty wrapup of this compelling family saga. What remains remarkable, however, is the refreshing ease with which Bloom writes about a variety of unconventional relationships, including mixed-race marriages, bonds between step-families that survive divorce, and Julia's comforting late-life affairs with a lesbian musician and one half of a gay couple.
Bloom brings this same nonjudgmental sympathy to another unlikely couple, grossly overweight William Langford and "spiky," "crabby" Clare Wexler, in four stories previously published in literary magazines but never before between hardcovers. William and Clare are soul mates, academics each married to attractive, nurturing spouses. They have sustained a close four-way friendship for years. Then, late one night while watching CNN, William and Clare upset the balance by becoming lovers. Like Julia, Clare "knew it wasn't a great idea almost immediately after it happened.") But this is not another story about repenting at leisure; Bloom's concern here is the courage—and costs–of seizing the day.
With humor, pathos, and a sharp economy that recalls Grace Paley's zesty prose, Bloom pulls us into her characters' dilemma. Obese, arthritic William is a heart attack waiting to happen. Clare, unlike William's pretty, solicitous wife Isabel, is an anti-romantic with a "squinty, unyielding nature," in the mold of Laurie Colwin's difficult, prickly women. Despite the havoc their relationship wreaks, they are ineffably drawn to each other: "Everything she thought about while driving up, how much trouble he is and how selfish and where all that shameless piggery has gotten him (gout and her), is nothing when he kisses her," Bloom writes, and we think, ah yes, this is about passion and chemistry. But then Bloom tips the scales, adding with typical frankness, "although even when their lips touch, even as the soft, salty tip of his tongue connects with hers, they are not the best kisses she's ever had."
Well, these may not be the best love stories we've ever read—it's hard to compete with the Russian classics–but they're certainly among the least starry-eyed and most compulsively absorbing. As Bloom makes clear throughout her work, the god of love hangs out in unlikely places and often exacts exorbitant fees—but tough luck, it's a small price to pay for feeling alive.