Every month in this space, Greil Marcus offers ten findings from the world of music, books, film, and beyond.
1. Rhiannon Giddens, Tomorrow Is My Turn (Giddens). In the Carolina Chocolate Drops, Giddens's voice is the one you wait for, and when you watch Giddens as part of the so-called New Basement Tapes band in Sam Jones's documentary Lost Songs — with Marcus Mumford, Elvis Costello, Jim James, and Taylor Goldsmith, she's searching for music to give a cache of recently discovered 1967 Bob Dylan lyrics — you realize her talent is bottomless. Throwing out rehearsal lines for "Lost on the River" — on the album of the same name, the only performance to redeem the concept — the soulfulness is almost too elegant to bear; the suspense in the movie comes from the looming possibility that as the group runs through one false start or misbegotten arrangement after another, the song will be lost.
On her first solo album, Giddens opens at the top, with Geeshie Wiley's 1930 "Last Kind Words Blues." Over the last twenty years the song has become a talisman of the way that some blues can never be solved. You can't know where they came from, what the singer meant to say, what the song says, only where the song leaves you: stranded, alone, wanting nothing as much as to hear it one more time. With a smeared sound, Colin Linden's rhythm guitar sets time in motion; Giddens sings from a step behind him, and the song itself is a step behind her, as if to say there's no way to sing this song that's not too fast. Everything you say could be a lie; every hiding word in Wiley's original could be something else. Does she say "rich man" or "Richmond"? "Blessèd" or "precious"?  Does Wiley promise to see her lover when she crosses the deep blue sea, or does she say she won't? "The Mississippi river, you know it's deep and wide," Wiley says, but does she follow with the strange "I can stand right here / See my baby from the other side," or the much stranger "See my face"?  What Giddens does with this line is beyond uncanny: she sings both words at once.
After that, the record flags. Covers of Odetta's "Waterboy," the Kingston Trio's "Round About the Mountain," Nina Simone's "Tomorrow Is My Turn," and the traditional "Black Is the Color" are at once frozen in homage and overwrought, and you're thrown straight into a 1960s overpriced nightclub, and whoever Giddens is that isn't someone else disappears. She sounds more at home with Patsy Cline's "She's Got You" and Dolly Parton's "Don't Let It Trouble Your Mind," but she doesn't bring anything to the songs they didn't. It's not until the end — with the songster Libby Cotton's "Shake Sugaree," the ancient Appalachian air "O Love Is Teasin'," and Giddens's own "Angel City" — that the swing goes through the air again, and you want to know more.
2. Lo-Fang, "You're the One That I Want," Chanel No. 5 commercial, directed by Baz Luhrmann (Regal Theaters). A mesmerizingly unrecognizable lounge version of the Olvia Newton-John/John Travolta hit, almost breathing life into a playlet about infinite wealth so soulless the model Giselle Bündchen comes across more like a variously upholstered piece of furniture than anything resembling a person.
3. "Picasso & the Camera," curated by John Richardson, Gagosian Gallery, New York (December 16, closed January 3). With small photos mounted on a board, taken in Picasso's studio around 1908, you can feel the beginning of the century, a new time about to seize its own voice, to assert the priority of its own eye. The war hasn't happened yet; it's not the ruling fact. What is is Cubism, and the conviction that Picasso and Braque and whoever can follow their lines are going where no one has been before. It's a manifesto implicit in Picassor's smile, and the smiles on the faces in the mockups and sketches behind him that will become Demoiselles d'Avingnon: What you can imagine, you can see. What you can see, you can paint. What you can paint, you can build. And if you can build it, you can live in it. In photos from after the war, there's a sense of depression, of constriction. No matter how great the Olga paintings can be, there's no larger world present; it's all painterly. There's no hint of utopia, no claim of freedom: the world is not going to be remade. You can live wherever you like, and defeat will move right in with you.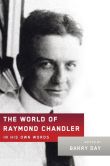 4. Barry Day, The World of Raymond Chandler — In His Own Words. A portrait of the mystery writer, his detective, and the Los Angeles he created as surely as Samuel Goldwyn or William Mulholland, drawn from Chandler's books, stories, letters, and essays — with Day, who has produced eleven books on Noël Coward, as a guest at a dinner party to which he was not invited, constantly interrupting (quotations are littered with ellipses) and offering supercilious comments to make it clear that whatever people are talking about is not really worth his time. Unreadable.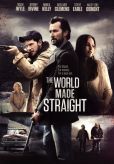 5. The World Made Straight, directed by David Burris, written by Shane Danielsen. "What are we listening to?" says Haley Joel Osmont's layabout to Noah Wylie's Leonard, a disgraced former high school teacher now dealing dope out of his trailer. "'Appalachian Spring' by Copland," Wylie says. "Never heard of it," Osmont says. "Used to open for Skynyrd," Wylie says. Set in the early 1970s in Madison County, North Carolina, where at the time the oldest, most unchanging American folk sounds were still making themselves felt, it's a no-way-out story carried most of all by the folksinger Steve Earle, who underplays his role as the local Mr. Big so convincingly you get the feeling he tired of his life long ago and keeps going simply because no one else in the place can fill his shoes.
6. Bruce Conner, note posted by Thomas Gladysz, Louise Brooks Society blog (November 18, 2012). The silent-film actress Louise Brooks (1906–85) left Kansas for Los Angeles in 1922; when her career faded away she opened a dance studio in Wichita. The artist and filmmaker Bruce Conner (1933–2008) left Wichita for San Francisco in 1957. One day in 1997 he left a note at a local Louise Brooks exhibition:
Which if nothing else demands a double feature: Conner's 1966 music film Breakaway, with Toni Basil dancing her clothes off with such lightning cuts you barely notice, and Brooks's 1929 Pandora's Box. Conner would be smiling; Brooks would probably be complaining he didn't cast her.
7. Syl Johnson — Any Way the Wind Blows, directed by Rob Hatch-Miller (SylJohnsonmovie). Still in production, but an interview moment from a documentary about a mostly forgotten soul singer from the 1970s, on a digital second career, his records sampled by everyone from Wu Tang Clan to Kid Rock to Jay-Z and Kanye West, often with no credit and no money. "They sampled you?" says Hatch-Miller, speaking of En Vogue's "Free Your Mind." "'No they didn't sample me," Johnson says. "They stole my music. And my sound and my style. You call it a sample if you wanna, that's easy. Sample. That's like somebody steals the tire off your car and you say, 'Well, they sampled my car.' What'd they do? They took the tire. So they sampled it."

8. White Lung, Deep Fantasy (Domino). From Vancouver, Mish Way sings and Kenneth William plays guitar so fast you'd think the disease the band named itself for — asbestosis — is chasing them. The feeling — which catches winds still blowing from the 1970s with Wire and the Avengers, the 1980s with Sonic Youth, Fucked Up today — is heedless and terrified, until halfway through a song the singer finds her feet in the story she's telling. The storm seems to pause; you can hear the pulse of drummer Anne-Marie Vassiliou before Williams pulls Way off her feet again. But what makes drama this band creates truly unsettling is the suppression in the sound. It's so muffled everything sounds far away — Mish could be singing from the bottom of a cave — or on the verge of being forgotten. Maybe that's where the panic comes from — and the thrill.
9/10. Selma, directed by Ava DuVernay (Paramount) and John Legend and Common, "Glory" (ARTium/Def Jam). Here the wonderfully bug-eyed Stephen Root — moving over from his role as the blind radio man in O Brother, Where Art Thou? — is  an aide to George Wallace when the Alabama governor asks if there's some way Selma Sheriff Jim Clark can be convinced to back off: "Look, George, I'm tellin' you, if the Lord Jesus and Elvis Presley come vistin' and they said 'Jim, now, we need you to treat them niggers nice,' Jim Clark would beat the shit out a the pair of 'em and throw 'em in jail." "I don't write white racist very well," DuVernay has said about why she kept screenwriter Paul Webb's "zinger" — which in a way points toward the reappearance of Jesus, if not Elvis, at the very end of the film, with Common, in the film playing the activist James Bevel as a man whose face and carriage are so powerful he doesn't need lines, now speaking over John Legend's singing as the credits roll over their "Glory."
The song sets the finale of the film far in the future, so that when Common's "That's why Rosa sat on the bus / That's why we walk through Ferguson with our hands up" arrives in the song it hits like lightning. There's something tremendously modest about the passion Common and Legend bring to the music — their tone says they're just tiny actors in a story they are privileged to be part of. It was a stance carried forward in Common's acceptance speech for Best Original Song at the Golden Globes, because you knew that if he and Legend win at the Oscars, he'll never be permitted to speak for so long, and so interestingly, and so eloquently: "As I got to know people of the civil rights movement, I realized: I am the hopeful black woman who was denied her right to vote; I am the caring white supporter, killed on the front lines of freedom; I am the unarmed black kid who maybe needed a hand but was instead given a bullet; I am the two fallen police officers murdered in the line of duty."
Photo of Rhiannon Giddens courtesy the artist/Big Hassle Media.
Note by Bruce Conner via the Louise Brooks Society blog.