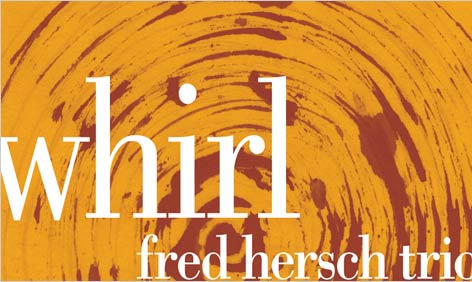 The backstory is horrific. Fred Hersch, one of the preeminent pianists in jazz, has been living with HIV for nearly two decades. In 2008, Hersch found himself hospitalized with AIDS-related dementia which eventually left him in a two-month long coma; the internment a torturous period plagued by intermittent hallucinations, paranoid fantasies, and nightmares that, at the worst of times, led Hersch to be forcibly restrained to prevent injury to himself and others. His decreased motor skills left his ability to play piano again seriously in doubt.
Yet, by this year, Hersch has miraculously regained his health, and Whirl is the first recorded evidence that his abundant skills as a performer are still very much intact. (His excellent 2009 releases, Fred Hersch Plays Jobim and Fred Hersch Pocket Orchestra: Live at the Jazz Standard had both been recorded a few years earlier.) Now leading a new trio comprised of bassist John Hébert and drummer Eric McPherson, Hersch is once again displaying the triple-threat acumen as pianist, composer, and bandleader that initially brought him acclaim.
Although he has a distinctive, if not quite instantly recognizable, style, Hersch can be heard as one of the fine pianists who picked up Bill Evans's mantle right at the point—let's say the very early 1970s—when that giant's playing began sounding overly mannered, all too often brittle, and uncomfortably frenetic. What Hersch, as well as such superb stylists as Alan Broadbent, Bill Charlap, and Marc Copland, retained from the earlier Evans manner was the acute sense of unforced lyricism, the flowing melodicism, and a looser rhythmic stance, as well as an almost obsessive attention to inviting pianistic touch. Whirl brims with Evans-like details that, by now, have been thoroughly internalized by the younger player (himself currently three years older than Evans was at his untimely death at age 51). A mix of original compositions, Great American Songbook standards, and jazz tunes, the album maintains a consistency of vision that bespeaks a mature artistic sensibility. Hersch's own works—mirror images of his playing—are unashamedly lyrical; poetically restrained, determinedly songlike in construction, and graceful in execution. If there should ever be a return to a common repertoire among jazz players, such Hersch tunes as "Snow Is Falling," "Skipping," and the affecting (and the pointedly titled) "Still Here" deserve investigation by others. Hersch, for his part, gets points by digging up "Mrs. Parker of K.C." by the late lamented pianist Jaki Byard (an early Hersch mentor) and "Blue Midnight" by drummer and former Bill Evans associate Paul Motian. And in Hébert and McPherson, Hersch has found sensitive and alert support players who can stand proudly alongside former ace Hersch teammates bassist Drew Gress and drummer Nasheet Waits.
Whirl would have been a standout recording for Hersch if calamitous health issues had never befallen him. The knowledge that it documents a return to form after adversity also makes it a genuine triumph of the human spirit.