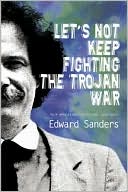 A Poem by Edward Sanders
Editor's Note: To mark the advent of National Poetry Month, we commence our celebration of some of the small publishers that nourish the muses. Each week throughout April, we'll feature poems from a different press. First up is Coffee House Press, a Minneapolis-based, award-winning, nonprofit literary publisher dedicated — in its own words — "to innovation in the craft of writing and preservation of the tradition of book arts." Coffee House has been innovating for more than a quarter century, proving that what's new can stay new. If comings weeks, we'll be presenting suites of poems from publishers David R. Godine, City Lights, and Graywolf Press.
This past fall Coffee House published Edward Sanders's Let's Not Keep Fighting the Trojan War: New and Selected Poems 1986-2009, from which "Whispering Books" is drawn.
Whispering Books
I know they're not actually talking
but the books on my desk
seem to whisper
—Charles Olson's Collected Poems
Blake's Jerusalem, E. P. Thompson's
The Making of the English Working Class
even Alfred McCoy's Politics of Heroin—
CIA Complicity in the Global Drug Trade
and others—
"Drop what you're doing!
Set aside your poetry!
Read us! Open us up!
Read slowly while you're at it.
Always read us
—every day—
before you play"
---
From Let's Not Keep Fighting the Trojan War: New and Selected Poems 1986-2009 by Edward Sanders. Copyright © 2009 by Edward Sanders. Published by Coffee House Press: www.coffeehousepress.org. Used by permission of the publisher. All rights reserved.