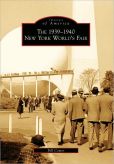 The New York World's Fair opened on this day in 1939. Billed as "The Dawn of a New Day" and "The World of Tomorrow," the Fair offered much technology that would and would not be. Among the latter group was "Smell-O-Vision," which promised to enhance movie-watching with realistic aromas; in the forefront of the former group was television, introduced to the world by David Sarnoff as "an art which shines like a torch of hope in a troubled world."
E. B. White attended the Fair, describing his reactions in "The World of Tomorrow." White moved to Maine the same year as the World's Fair, and it is no surprise that, compared to the fair in Blue Hill which inspired Charlotte's Web, New York could not compete:
It is all rather serious-minded, this World of Tomorrow, and extremely impersonal. A ride on the Futurama of General Motors induces approximately the same emotional response as a trip through the Cathedral of St. John the Divine. The countryside unfolds before you in $5-million micro-loveliness…. The voice is a voice of utmost respect, of complete religious faith in the eternal benefaction of faster travel.… When night falls in the General Motors exhibit and you lean back in the cushioned chair (yourself in motion and the world so still) and hear (from the depths of the chair) the soft electric assurance of a better life—the life which rests on wheels alone—there is a strong, sweet poison which infects the blood. I didn't want to wake up. I liked 1960 in purple light, going a hundred miles an hour around impossible turns…. It wasn't till I passed an apple orchard and saw the trees, each blooming under its own canopy of glass, that I perceived that even the General Motors dream, as dreams often do, left some questions unanswered about the future. The apple tree of Tomorrow, abloom under its inviolate hood, makes you stop and wonder. How will the little boy climb it? Where will the little bird build its nest?
---
Daybook is contributed by Steve King, who teaches in the English Department of Memorial University in St. John's, Newfoundland. His literary daybook began as a radio series syndicated nationally in Canada. He can be found online at todayinliterature.com.