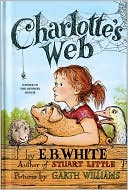 On this day in 1952, E. B. White's Charlotte's Web was published. Doubts and self-deprecations were basic elements of White's winning style, and he undervalued his children's classic spectacularly. His pre-publication hunch was that his "hymn to the barn" would be too low-key for midcentury tastes, and that most kids "would like it better if my barn cellar were loaded into a space ship and exploded in the general direction of Mars." Figuring that royalties in excess of $7,500 a year were an "extravagant dream," he casually agreed to place anything more in a tax shelter with his publisher—and then, twenty-five years later, received a check for half a million dollars.

By the time of Charlotte's Web, White had been living on his "salt farm" along the Maine coast for fifteen years, happily distanced from his New York-New Yorker life:
I am surrounded by hundreds of bottles of new crabapple jelly, and pears in jars, and ripening cranberries, and turkeys on the hoof, and ducks in the cove, and deer in the alders, and my own mackerel shining in air-tight glory. I wouldn't know what to do with a dollar even if I could remember which pants it was in.
The bucolic life did not cause any softening of White's prose or principles. To the editors who wanted him to change the book's ending, softening Charlotte's lonely death: No. To the movie director whose screenplay tended to moralize and anthropomorphize: "My feeling about animals is just the opposite of Disney's. He made them dance to his tune and came up with some great creations, like Donald Duck. I preferred to dance to their tune and came up with Charlotte and Wilbur." To a neighbor who wanted to know how he liked the finished movie: "The story is interrupted every few minutes so that somebody can sing a jolly song. I don't care much for jolly songs. The Blue Hill Fair, which I tried to report faithfully in the book, has become a Disney world, with 76 trombones." To the audio company that wanted a movie-star narration rather than, as White wanted, a plain reading by his neighbor: "I think a book is better read the way my father used to read books to me—without drama. He just read the words, beginning with the seductive phrase "Chapter One…."

White lived on his farm for almost fifty years, and he recorded Charlotte's Web himself.
---
Daybook is contributed by Steve King, who teaches in the English Department of Memorial University in St. John's, Newfoundland. His literary daybook began as a radio series syndicated nationally in Canada. He can be found online at todayinliterature.com.