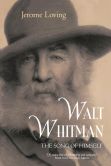 Walt Whitman was born on this day in 1819, and on this day in 1889, his seventieth (and second-to-last) birthday, he was honored in a gala celebration in Camden, New Jersey, hometown for his last two decades. Too ill to sit through the banquet, Whitman arrived in his wheelchair afterward — the wheelchair just purchased with money from the banquet's ticket sales, Whitman always impoverished and always looking for an opportunity. He said little but raised a glass or two as the speakers and the telegrams (from Tennyson, Twain, and many others) sang their songs of himself. As recalled the next morning, and after decades of contentious debate over his Leaves of Grass, the evening was a rewarding one for Whitman:
When I got into the hall — up the fine broad stairway — had my seat there at the table — a good bottle of champagne, a glass of cold water, and lots of roses — then I knew I was safe — all right. And then, the spirit of cordiality that streamed through the room — flooded it….
The Johnstown Flood raged throughout the birthday celebration, destroying the Pennsylvania town and killing over 2,000. Several days later, when asked by a New York newspaper if he could manage something on the tragedy, Whitman wrote "A Voice from Death," which was republished across the U.S. in early June. The early sections of the poem lament the death of young and old, husband and wife, "The corpses in the whelming waters and the mud, / The gather'd thousands to their funeral mounds, and thousands never found or gather'd." The final sections turn from mourning to warning: "War, death, cataclysm like this, America, / Take deep to thy proud prosperous heart." The last lines:
Thou! thou! the vital, universal, giant force resistless, sleepless, calm,

Holding Humanity as in thy open hand, as some ephemeral toy,

How ill to e'er forget thee!

For I too have forgotten,

(Wrapt in these little potencies of progress, politics, culture, wealth, inventions, civilization,)

Have lost my recognition of your silent ever-swaying power, ye

mighty, elemental throes,

In which and upon which we float, and every one of us is buoy'd.
---
Daybook is contributed by Steve King, who teaches in the English Department of Memorial University in St. John's, Newfoundland. His literary daybook began as a radio series syndicated nationally in Canada. He can be found online at todayinliterature.com.