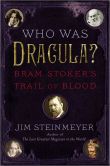 The lives of most authors — even, or perhaps especially, the great ones — are necessarily a catalogue of tedious inwardness and cloistered composition. Globe-trotting Hemingways and brawling Christopher Marlowes are the exception, not the rule. In many respects, a cursory overlook of the life of Bram Stoker, author of Dracula, fits this milk-mild template, albeit in a slightly divergent and commercial fashion.

For nearly three decades Stoker was the subservient factotum to one Henry Irving, a self-satisfied and slightly bombastic Victorian actor of great fame. (Irving's production of Faust was adjudged "one of the great spectacles of the nineteenth-century theater.") Stoker, the "Stage Manager," kept accounts, managed actors, wrestled scenery, and in general did everything — in a genuinely loyal, worshipful and dutiful fashion — that he had to do in order to make Irving's career at the prestigious Lyceum Theatre in London possible. When it was all over, Stoker estimated he had written over half a million bland letters in the course of his job — and surely some of those words could have been turned to Stoker's own purposes.

But of course, Stoker did manage, despite this selfless dedication, to gain literary immortality (regardless of the forgettable dross he also churned out, viz., The Shoulder of Shasta) with one special book: Dracula. Always seen as something of an anomalous production of Stoker's career (he spent a full seven years on the book, more time than on any other project) and so "well known" as to have its actual lineaments obscured in a fog of familiarity, the genesis of Dracula is at the heart of Jim Steinmeyer's fascinating new study. But he also manages to instill Stoker's quiet personal life with immense allure, due mainly to two aspects of the book. First is the large empathy and fondness Steinmeyer has for his subject, which is visible on every page. Then, second, is the era itself, and the wealth of grand personages moving in Stoker's orbit. From the glamorous, ill-fated actress Ellen Terry to the daring explorer Arminius Vambery (a name no novelist could better), from Oscar Wilde to several candidates for Jack the Ripper, including the gloriously eccentric Dr. Tumblety, Stoker's life path intersected enough colorful characters to stock a dozen of Henry Irving's favored melodramas.

And Steinmeyer conjures them up beautifully. Here's his description of Oscar Wilde's mother:
Lady Jane Wilde, called Speranza by her friends, seemed to tie every conversation together by swanning from room to room, effortlessly offering clever introductions, witty and vaguely insulting bon mots, and an assortment of tea cakes and sandwiches. She was a tall, ungainly figure swathed in a Gypsy-inspired skirt and festooned with long sashes and dangling brooches.
Whether Steinmeyer is describing the fabled Beefsteak Room, with its glittering attendees, or the atmospheric coast town of Whitby, from which Stoker drew much inspiration, the scene is always clear and vivid, as are the actors that populate it. Unforeseen historical wonders abound. Stoker meeting his unlikely idol, Walt Whitman, in America? Bela Lugosi stepping unannounced onto a London stage in 1939 to surprise the audience watching the play version of Dracula? You've got it!

And of course Steinmeyer is equally adept at dissecting the novel itself, Chapter Five is a long, highly readable précis of the book that shows how much of the important action is commonly forgotten or disregarded. And in piecing together Stoker's influences, sources, and inspirations, Steinmeyer exhibits a detective's cunning and craft. The touches derived from Carmilla and Dr. Jekyll and Mr. Hyde and Dorian Gray are properly signified. He is also careful to honor previous critical guideposts, such as the landmark In Search of Dracula by Radu Florescu and Raymond McNally.

Steinmeyer finds Draculato be an interstitial, transitional work, precisely poised between the gothic tradition and modernity, full of sexual tension and uneasy morality. This quality endows Stoker's work with longevity and ensures that Steinmeyer's own fine and valuable study will remain of interest as long as the Transylvanian Count continues to spread his batwings.
---

Paul Di Filippo's column The Speculator appears monthly in the Barnes & Noble Review. He is the author of several acclaimed novels and story collections, including Fractal Paisleys, Little Doors, Neutrino Drag, and Fuzzy Dice.