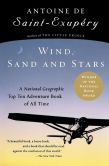 Antoine de Saint-Exupéry disappeared over the Mediterranean on this day in 1944 while piloting a WWII reconnaissance flight. His last letters and conversations were full of life-weary comments, but whether his death was suicide or accident — the plane, recovered in 2000, shows no sign of enemy fire — will not likely ever be known. Wind, Sand and Stars, Saint-Exupéry's 1939 award-winning bestseller (still ranked #3 on National Geographic's list of top 100 adventure/exploration books), tells of his near death after an earlier crash landing in the Libyan desert. The closest of Saint-Exupéry's handful of close calls, the five-day ordeal he and his assistant endured is described as an inexorable shutting down, the body giving in to dehydration, the emotions free-falling through hope and despair to this emptiness:
Yesterday I had dreamed of a paradise of orange-trees. Today I would not give a button for paradise; I did not believe oranges existed. When I thought about myself I found in me nothing but a heart squeezed dry…. I felt no sorrow. I was the desert. I could no longer bring up a little saliva; neither could I any longer summon those moving visions towards which I should have loved to stretch forth arms. The sun had dried up the spring of tears in me.
But the two men spotted a footprint in the sand, then a Bedouin "walking towards us over the sand like a god over the waves." Saint-Exupéry would go on to write The Little Prince, a book in the spirit of an earlier passage of Wind, Sand and Stars, when in a more resilient mood:
All in all it has been a good life. If I got free of this I should start right in again. A man cannot live a decent life in cities, and I need to feel myself live. I am not thinking of aviation. The airplane is a means, not an end…a means of getting away from towns and their bookkeeping and coming to grips with reality…. A pilot's business is with the wind, with the stars, with night, with sand, with the sea….

I am not talking about living dangerously. Such words are meaningless to me. The toreador does not stir me to enthusiasm. It is not danger that I love. I know what I love. It is life.
---
Daybook is contributed by Steve King, who teaches in the English Department of Memorial University in St. John's, Newfoundland. His literary daybook began as a radio series syndicated nationally in Canada. He can be found online at todayinliterature.com.