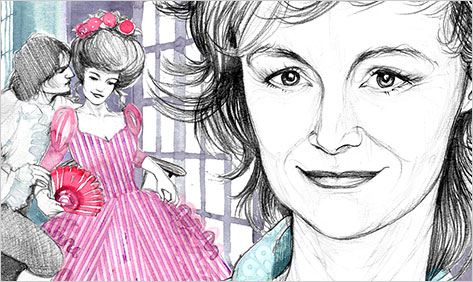 People always ask me why there are so many dukes in my books: frankly, "duke" is my shorthand for "rich and powerful." Since I grew up in a poet's household, money problems do not interest me in the slightest, but they frequently prove the impetus for a good story. That's true regardless of the tale's period: Regency dukes guarded their ducats and their privacy, but billionaires these days are likely to attract all sorts of attention, from women and paparazzi. Ultimately, it's the power money brings that makes it so interesting, particularly in a love story: it's not easy to put a relationship on equal footing when one person in a couple has control over the behavior of those around him.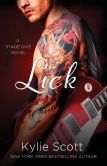 In Kylie Scott's Lick, Evelyn Thomas wakes up from her twenty-first birthday celebration with a hangover and a husband. Not just any husband, either: her finger is graced by a huge diamond ring, and her husband turns out to be David Ferris, a famous rock star. Not that Ev knew who he was when she married the guitarist of Stage Dive. At first, Ev and David plan a calm divorce (after Ev throws the ring at his insulting lawyers), but then the paparazzi erupt in her life, fascinated by the story of a rock 'n' roll hero married by an Elvis impersonator. Ev ends up hiding out with David, while they get to know each other. Ev's hilarious response to the clothes David buys her (among which is the $300 thong) has all the charm of Pretty Woman, without the business relationship. This romance is pure fun, from start to finish — and for those of us who grew up with little in the way of luxuries, the "winning the lottery" side of it is fun, too.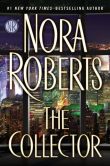 If Lick reminds the reader of Pretty Woman, Nora Roberts's The Collector brings to mind Rear Window. The heroine, Lila Emerson, is a YA author who house-sits for rich New Yorkers, a job that puts her in just the right place to watch a woman be pushed from the fourteenth-floor window of the building opposite. It turns out that two people died in that apartment — and she is the only witness. The brother of one victim is Ashton Archer, a bachelor with family money as well as a thriving career as an artist. The Collector depicts a different world than did Lick: the trophies here are not goose egg-sized diamond rings but priceless Fabergé eggs. Ashton lives in the world of "old money." Lila's response to life in a Hamptons "compound" is as hilarious as Ev's is to the rock 'n' roll circus. If many people thought Ev was a groupie, those who surround Ashton are just as scornful of Lila and her itinerant lifestyle. For her part, Lila doesn't much care — as she says, "status and money don't drive everyone's train." True. But they sure are fun to read about.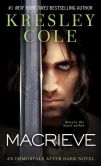 Kresley Cole's MacRieve takes the theme of billionaire-meets-down-to-earth-girl into the realm of the supernatural. Chloe is a normal girl — except for the fact that she's a star soccer player who's been invited to try out for the Olympic team. There's nothing normal about Uilleam MacRieve — he's a wildly rich shape-shifter who no sooner takes a look at Chloe than he realizes she's his "mate." Will is the epitome of a damaged hero, with a torturous past stemming from the terrible actions of a succubus. Guess what species Chloe begins to transform into? MacRieve is a powerful, incredibly sexy novel about a man who hates the very essence of the woman he loves — and acts horribly toward her again and again on that basis — but, of course, he's wrong. Part of what teaches him not to judge a person by her species is the fact that Chloe is completely uninterested in his wealth; she's just looking for a good game.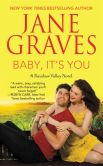 The financial stakes are reversed in Jane Graves's Baby, It's You. Kari Worthington, an heiress who just skipped out on her own wedding, drove 200 miles, and ended up in Texas Hill Country with little more in her possession than her veil (her father cuts her off in a fit of rage). Marc Cordero finds her walking down the road in the rain and takes her to a hotel, where her credit card is declined. If Kari wants to be free, so does Marc — and he's on the very edge of breaking away. He just dropped his daughter off at college, and he is about to hit the open road on his Harley, heading for parts unknown. That bid for freedom is complicated once Kari moves into the vineyard and they leap into wild affair. Money threads its way through this book: heiress Kari learns to waitress, and Marc must learn to trust that Kari loves him more than her father's money. Equally important, he learns that having enough money to not work doesn't mean that a man should leave the working world: sometimes accepting responsibility is the most freeing choice of all.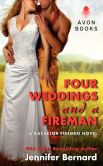 I'm ending with a novel in which neither the hero nor the heroine has any money or power. While it's fun to immerse oneself in the diamond-drenched life of the rich and famous. It's also wonderful to fall in love with characters who have courage, intelligence, and brains — but not cash. Jennifer Bernard writes the best firemen around (a subgenre for which I have a particular fondness), and Four Weddings and a Firemanis no exception. Derek "Vader" Brown is hoping to make captain so he can support his mother. His girlfriend, Cherie Harper — a runaway from an impoverished home life — has even less money than he does. Neither of them has a penny to rub together. All the same, Vader is a take-charge, alpha fireman who makes the reader remember that money is nothing more than icing. What we all want — what we most need — is someone who is truly heroic, who will dash into a burning fire to save a child, who will sacrifice his lifestyle to support an ailing mother, who will love you forever.
---
Eloisa James's latest romance is Three Weeks with Lady X — you can browse all of her books here.

You can check out Eloisa's past columns in the Archives, and if you'd like to get her reactions to romances as she reads them, follow her on Facebook or Twitter.
For sneak peeks at all of Eloisa's romances, please visit her web site at www.eloisajames.com.