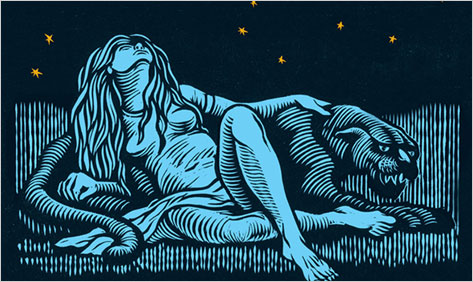 It is1940, and in rural Virginia a group of children play a game whileeight-year-old Eddie Alley watches. "Witches" on one side,"Travelers" on the other, they chant:
How many miles from here to Gal-il-ee?
Three score and ten.
Can I get there by candle light?
Yes, if your legs are long as light.
Watch out!
Mighty bad witches on the road tonight.
When asked if he wants toplay, Eddie hesitates, then sighs and asks "Which side am I on?"
This question is at theheart of Sheri Holman's Witches on the Road Tonight. It begins with two travelers, writer Tucker Hayesand photographer Sonia Blakeman, who accidentally hit Eddie with their car.They take the boy to his isolated shack near Panther Gap, and in order todistract him Tucker produces a hand-cranked projector and shows a film, anearly, silent version of Frankenstein.It's the first movie Eddie has seen, and it fires something within him. Thearrival of Eddie's mother Cora, popularly supposed to be a witch, firessomething within Tucker, and a stay which was to last only a few hoursstretches into days. The recently drafted Tucker is reluctant to leave,particularly after his night-time trysts with Cora. Are they dreams? Or is shereally a witch, and is Tucker under her spell?
In the course of a novelthat spans seventy years and alternating viewpoints, we learn that Eddieeventually leaves Virginia, marries Ann—whose father owns an independent TVstation—and becomes Captain Casket, host of a cheesy, yet fondly remembered,late night movie show specializing in horror films. Ann, longing for a morecosmopolitan life, tolerates the show and her husband's alter ego. Eddie'sdaughter Wallis is torn between an admiration for Captain Casket and therealization that her father is only too human.
Their charged but apparentlystable triangle is transformed by the arrival of Jasper, an orphaned teenagerwho turns up at the station one day and begins doing odd jobs, idolizes Eddie,and is outraged when he learns that the show is being cancelled and the stationsold. He also exposes the divisions, secrets, and jealousies within the family,which come to a head after Eddie flees the surprise party his wife hasmeticulously planned. He takes Wallis and Jasper to his old home, long sinceabandoned after the death of Cora. It is here that twelve-year-old Wallis, wisebeyond her years, comes to know her dead grandmother for the first time.Wearing Cora's faded clothing, poring over her old book of herbal concoctions, she wonders what happened to Tucker Hayes, whoapparently never left Panther Gap. Did Cora kill him, or did he stay there inhiding to avoid the draft? Does Eddie know? Does her father see in Jasper ason, a friend, his younger self, or a potential lover? Is the house at PantherGap a prison, or a refuge? And is Wallis a traveler, a witch, or both?
These are not the onlyquestions swirling beneath the surface of Holman's clear and thoughtful prose,which also deals with guilt, love, and the possibility of redemption. It's aheavy load for a slim novel, and few of the questions are answered. Insteadthere are hints and clues, allowing readers to decide for themselves whatreally happened in Panther Gap in 1940, and whether the witches and ghosts arereal or imagined. "People are your ruin or salvation," Cora tellsEddie. What she doesn't say, but which Holman suggests again and again, is thatsometimes they can be both.
In The Dress Lodger, set in early nineteenth-century England, Holmandemonstrated that she could capture the sights, sounds, and voices of a verydifferent world. Despite the occasional stumble (Eddie, nominally the maincharacter, remains something of a cipher), Witcheson the Road Tonight is a similarly rich and rewarding read, elegant andassured.