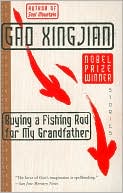 Gao Xingjian was born on this day in 1940. Among his books published in the West since his 2000 Nobel is a small collection of short stories, Buying a Fishing Rod for My Grandfather. Gao wrote the title story in the mid-1980s, at the same time he began his international bestseller, Soul Mountain. Both present the clash of the old and new Chinas — in the short story, a nostalgia for the past so compelling that the narrator wishes to buy a fishing rod for his grandfather even though grandfather is dead and his village, way of life, and fishing spots have disappeared under a frenzy of social, economic, and environmental change. The lake is now sand and asphalt; a plastic button factory, a sea of prefabs, and a forest of television aerials obscure the old house, its gate screen of carved images depicting Good Fortune, Longevity, Prosperity, and Happiness nowhere to be seen; and grandfather, the narrator imagines, is lost to confusion and despair:
I see my grandfather sitting on a small wooden stool, his back hunched, sputtering on his pipe. Grandfather! I call out to him, but he doesn't hear. I go right up to him and call again, Grandfather! He turns round but is no longer holding his pipe. Tears stream from his ancient eyes, which seem bloodshot from smoke. In winter, to get warm, he always liked to squat by the stove and burn wood. Why are you crying, Grandfather? I ask. He wipes the snivel with his hand. Sighing, he wipes his hand on his shoe but it doesn't leave a stain. He is wearing old cloth shoes with thick padded soles that my grandmother made for him. Without saying a word, he looks at me with his bloodshot eyes. I've bought you a fishing rod with a hand reel, I tell him. He grunts deep in his throat but without enthusiasm.
Despite his exile and his antipathy toward the current Chinese government, Gao refuses to politicize his life. In his Preface to "Without Isms" he asserts the "minimum human right" to march under no flag, though doing so risks public condemnation:
People are born without isms, but after birth various types of isms are foisted upon them, so that if they try to get rid of them later it is not a simple matter. People can change from one sort of ism to another, but they are not permitted to be without isms. The world is strange like this.
---
Daybook is contributed by Steve King, who teaches in the English Department of Memorial University in St. John's, Newfoundland. His literary daybook began as a radio series syndicated nationally in Canada. He can be found online at todayinliterature.com.