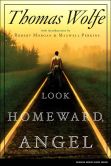 Thomas Wolfe's Of Time and the River was published on this day in 1935. With Wolfe's death in 1938, aged thirty-seven, this second novel was the last to appear in his lifetime. The legendary story of how the "Leviathan" manuscript was wrestled into publication shape is funny, poignant, and full justification for editor Maxwell Perkins's initial feeling "that Wolfe was a turbulent spirit, and that we were in for turbulence."

In 1929, Perkins had edited Look Homeward, Angel, Wolfe's first novel, cutting some 66,000 words. By the end of 1933, Wolfe had a sequel that was four times as long as the uncut version of the first novel, and growing at a rate of 50,000 words a month. Recognizing that there was more river than time, Perkins tried to force a halt. The first installment, delivered to him at Scribners by "lone Wolfe" one December midnight, was a stack of typed manuscript two feet high. Six or seven nights a week throughout much of 1934 the two met to cut and argue — Wolfe showing up to many meetings with freshly written material that Perkins would read, admire, and usually cut.

Perkins biographer A. Scott Berg includes the story of how Wolfe, after one late-night dinner, insisted on showing Perkins the Brooklyn Heights apartment where he had written so much of his novel. When they arrived, Wolfe couldn't find his keys, so they began their literary tour via the fire escape — here the small refrigerator used for a writing table, there the ever-open bottle of whiskey…. They had time for several drinks before the couple who currently occupied the apartment arrived home. Wolfe had moved to a new place several weeks earlier, and whether he had broken into his old one in the grip of absentmindedness (Berg's view) or alcohol or art, he remained untroubled even when the wife went for the police. He poured the husband a drink from his own bottle and then, says Perkins, poured on the southern charm: "That man hadn't read anything but Dodger box scores in twenty years, but Tom treated him as though he were the editor of the Atlantic Monthly…." When the police arrived the husband was telling stories of his own, and the three men sat up another hour.

When Wolfe showed up for his meeting with Perkins several days later he had a 35,000-word insert for Of Time and the River based on the night's events. This Perkins cut, too.
---
Daybook is contributed by Steve King, who teaches in the English Department of Memorial University in St. John's, Newfoundland. His literary daybook began as a radio series syndicated nationally in Canada. He can be found online at todayinliterature.com.