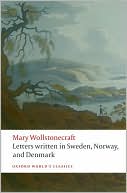 April 27: Mary Wollstonecraft was born onthis day in 1759. Wollstonecraft's most popular book in her lifetime was notthe groundbreaking Vindication of theRights of Woman (1792), but LettersWritten in Sweden, Norway and Denmark (1796). As a travel narrative, Lettersoffers colorful snapshots of Wollstonecraft's summer trip, but the book alsoreflects her philosophical beliefs, her independent spirit, and the turmoil ofher relationship to the shady American businessman-adventurer, Gilbert Imlay.Wollstonecraft gave birth to Imlay's child in May, 1794; a year later, havingdiscovered his infidelity, she attempted suicide; a month later she was on herway to Scandinavia on his behalf, trying to salvage one of his businessventures and soothe her spirits:
The pineand fir woods, left entirely to nature, display an endless variety; and thepaths in the woods are not entangled with fallen leaves, which are onlyinteresting whilst they are fluttering between life and death. …I cannot tellwhy—but death, under every form, appears to me like something getting free—toexpand in I know not what element…. The impetuous dashing of the reboundingtorrent from the dark cavities which mocked the exploring eye, produced anequal activity in my mind: my thoughts darted from earth to heaven, and I askedmyself why I was chained to life and its misery?
Thoughemotionally revealing, these Lettersfor public consumption cannot match the raw power of the private letters shesent Imlay throughout her trip. Alternately strong and pleading but alwaysforthright, Wollstonecraft begs Imlay to also speak plainly, and from theheart: "But, for God's sake! spare me the anxiety of uncertainty!–I maysink under the trial; but I will not complain."
Sink she almost did. Discovering more infidelity upon her return toLondon, Wollstonecraft now writes Imlay to give instructions for the care oftheir child, to wish that he may "never know by experience what you havemade me endure," and to give notice that she "shall plunge into theThames where there is the least chance of my being snatched from the death Iseek." Pulled from the water by fishermen, she went back to singleparenting and writing, and on to William Godwin. She died two years later, ofcomplications from giving birth to the future Mary Shelley.
---
Daybook is contributed by Steve King, who teaches in the English Department of Memorial University in St. John's, Newfoundland. His literary daybook began as a radio series syndicated nationally in Canada. He can be found online at todayinliterature.com.