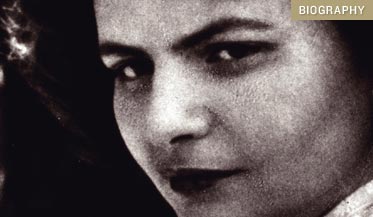 "There does not exist in all of Italian literature a writer who is loved and hated, more read and more ignored, than Elsa Morante," wrote the critic Cesare Garboli. There were reasons why Morante (1912-85) has often been passed over, despite her undoubted talent and originality. In the first place, she was resolutely anti-ideological in a passionately ideological age; then, her style was a disconcerting mixture of the traditional, the postmodern, and the Freudian. In a word, she was impossible to classify — and literary critics are always uncomfortable with work that doesn't slip easily into some obvious category. Her fellow writers accorded her great respect, and Alberto Moravia always answered "Elsa Morante" if anyone asked him who was the most important Italian writer of his generation — but then, he was her husband, so what else could he say? Oddly enough, Lily Tuck's Woman of Rome: A Life of Elsa Morante, now appearing more than 20 years after Morante's death, is the first biography of the writer to appear in any language.

Much of Tuck's own 1950s youth was spent in Rome, where her father, a film producer, operated on the periphery of Morante and Moravia's circle. Morante's close friends included the brightest stars of the era: Luchino Visconti, Pier Paolo Pasolini, Italo Calvino, Cesare Pavese, Vittorio De Sica. It was a heady, glamorous time when the city was reveling in liberty and prosperity after the horrors of war, and Morante was one of its oracles. She was the author of the provocative novels House of Liars (Menzogna e sortiletio, 1948), Arturo's Island (L'isola di Arturo, 1957), and the hugely successful History (La storia, 1974), which sold 800,000 copies in its first year and fascinated all of intellectual Italy: "For the first time since anyone can remember," wrote a New York Times commentator, "people in railroad compartments and espresso bars discuss a book — the Morante novel — rather than the soccer championship or latest scandal. The critics write endlessly about the meaning of La Storia and the reasons for the exceptional stir it is causing."

Morante's rise from obscurity was dramatic. Her mother, Irma, had been a schoolteacher, a Jewish woman who raised her children as Catholics; her legal father was a probation officer in a boys' reform school in Trastevere. Sexually impotent, the poor man was mocked and vilified by his wife, who relegated him to a basement room and made him eat his meals separately from the rest of the family. It seems clear that Irma's lover Francesco Lo Monaco — handsome "Uncle Ciccio" — was the real father of Elsa and her siblings. It is hard to imagine a more bizarre family drama, and one can easily understand Elsa's fascination with Freud and his theories, especially his emphasis on dreams and their interpretation — a fascination that is everywhere evident in her fiction. "Dreams, what miracles!" she wrote. "?One word, one look suffices to propel a dream toward nameless paths, adventurous voyages. It is like a thread which turns itself into fabulous lace. Could that be the secret of art? To remember how one saw the work in a dream state, to try to say again how one saw it, to try above all to remember. For to invent, no doubt, is to remember."

Morante left home at the age of 18, moving to a single furnished room near the Piazza Venezia. The next decade was a time of struggle, during which she often went hungry and had to supplement her meager income from writing and teaching with occasional forays into prostitution. Tuck reminds us that extremely conservative, Catholic values were still in place, and Rome was a dangerous place for single girls: "Young Italian middle-class women lived at home with their parents and not in apartments alone?.Their lives were defined by their family." In those days "a young woman could not walk down the street, ride a bus, without some predatory man following her, speaking to her, trying to molest her."

Morante had met Moravia in 1937. Their relationship was to endure for a quarter of a century, but it was never entirely satisfactory to either party; Morante was humiliated by Moravia's greater success, fame, and social status and by the fact that he was never really in love with her, while he often felt oppressed by her stormy and imperious nature. In the early years he was fascinated by "an extreme, heart-rending, passionate quality in her character. It was as if every day of her life were the last, just before her death" — but when he finally broke away, decades later, he admitted to feeling "a sense of absolute physical liberation. As if I had rid myself of something heavy, like a plaster cast."

Mussolini made his infamous pact with Hitler in 1938, and the anti-Semitic Italian racial laws went into effect the same year. Morante and Moravia, half Jewish, had to flee Rome during the war, making their way to a remote village in the South where they spent nine months living in a one-room, mud-floored hut, helped by local peasant families. (Moravia's novel La ciociara and Morante's story "The Sicilian Soldier" were inspired by these events.) Back in Rome after the war their careers flourished, and they become a recognized literary couple. Critics and fellow writers began to pay attention to Morante's strange work, with its characteristic themes such as "the abandoned children raised in isolation in semi-magical places, the destructive power of possessive parental love and the not so redemptive quality of conjugal love." In The New Yorker, Maeve Brennan marveled at Morante's powerful characters, "operatic in their transports of fury and despair?. She seems afraid of nothing, except, possibly, the dullness and resignation of a sensible solution."

This operatic flair carried over into her life. At one point she fell in love with the bisexual Visconti and planned to run off with him; predictably, he failed to show up at their rendezvous. Moravia vividly recalled "how Elsa flaunted her grief and suffering over losing Visconti." At 50, she had a passionate affair with a young American half her age, as sexually ambiguous as Visconti; he fell to his death from a Manhattan rooftop, a possible suicide. Old age, illness, and ugliness defeated her; in 1983 she tried to take her own life, but the attempt failed and she lived on for a few more years in pain and humiliation.

Tuck's biography is important because it is the only one there is, but it must be said that it is a disappointment. It is terribly thin, and in many places Tuck has done little more than skim the surface. Rome in the wartime and postwar years was a dramatic, violent, gorgeous, and creative city; Morante's work is fascinating and relatively unknown to American readers; she and Moravia were at the vortex of a remarkable and highly colored group of artists and thinkers. Tuck has served up an enticing taste of all this, but it is hardly a meaty repast.