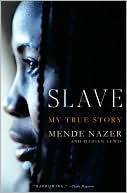 March 8:Today is the 100thanniversary of International Women's Day, so designated by the United Nationsin 1977, now honored in most countries, and a national holiday in some. Theidea for such a day was first proposed in the early 1900s by several Socialistand Workers alliances, and first celebrated in 1911 in Scandinavia. March 8thwas designated as IWD due to a convergence of international events on or aboutthis day. Most notably, female workers in New York City (many of them sweatshopemployees in the garment industry) had held influential protest marches onMarch 8, 1857 and March 8, 1908; in Russia, protests led by women's groups onMarch 8, 1917 (February 23 in the Julian calendar), had been instrumental instarting the Russian Revolution.
This year's IWD eventscover the entire range of female empowerment issues, from entrepreneurshipstrategies to the campaign against female genital mutilation. Genitalmutilation is but an early horror in Slave(2003), the true story of a Sudanese girl's abduction, prolonged captivity, andunrelenting abuse. In "A Freedom Song," by the Kenyan writer MarjorieOludhe Macgoye, an orphaned girl is virtually enslaved in her own village:
Atieno washes dishes,

Atieno plucks the chicken,

Atieno gets up early,

Beds her sacks down in thekitchen,

Atieno eight years old,

Atieno yo.
Atieno's exploitation andabuse culminates in her death during childbirth and the beginning of a new cycle:
Atieno had a baby

So we know that she isbad.

Fifty fifty it may live

And repeat the life shehad

Ending in post-partumbleeding,

Atieno yo.

Atieno's soon replaced.

Meat and sugar more thanall

She ate in such a narrowlife

Were lavished on herfuneral.

Atieno's gone to glory,

Atieno yo.
---
Daybook is contributed by Steve King, who teaches in the English Department of Memorial University in St. John's, Newfoundland. His literary daybook began as a radio series syndicated nationally in Canada. He can be found online at todayinliterature.com.