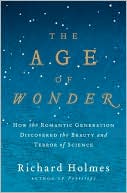 In the midst of last week's launch of our redesigned site, I missed one bit of welcome news — Richard Holmes's The Age of Wonder : How the Romantic Generation Discovered the Beauty and Terror of Science was awarded the Royal Society Prize for Science Books.
Holmes is celebrated as the biographer of Romantic figures such as Shelley and Coleridge (and as a the author of the unique and delightful memoir Footsteps) but this book takes his already impressive knowledge of the lives and works of the late-18th century's intellectual titans, and knits together a narrative of astonishing scope. The botanist and explorer Sir Joseph Banks, the astronomers William and Caroline Herschel, the chemist Sir Humphrey Davy are just a few of the figures whose adventures are illuminated herein.
But don't take my word for it: read Dava Sobel's review (she says, "I didn't just read The Age of Wonder; I escaped to it, riding happily with its heroes through a blaze of adventures and ideas.") and then dig into an in-depth conversation in-depth conversation between Holmes and BN Review editor James Mustich.
Then get the book, which is a wonder, all on its own.
-BILL TIPPER