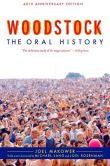 "Woodstock Nation" was officially born on this day in 1969 at 5:07 p.m. — many hours behind schedule, and only after Richie Havens, one of the few opening-day performers who had made it to the Upstate New York site, reluctantly agreed to take the stage: "If they throw one beer can at me, you're going to owe me, big time." This is how Havens recalls the moment in his 1999 autobiography, They Can't Hide Us Anymore:
…I calmed myself with the thought that it would only be a twenty-minute set. I picked up my guitar and climbed the steps. The crowd went nuts. I felt the people just wanted something to happen after all the hours of nothing.

So I sat down on the stool and looked out at the huge crowd and said what I had been thinking since that first look from the helicopter at the never-ending blanket of people.

"YOU KNOW, WE'VE FINALLY MADE IT," I said into the mike. "WE DID IT THIS TIME. THEY'LL NEVER BE ABLE TO HIDE US AGAIN."

The rumbling from the crowd was like a small earthquake. It came first in a low-pitched wave, then, it rose up and shook the stage. I heard the word freedom loud and clear in my brain….
After about three hours, and without a song left to sing, Havens launched into his most famous improvisation: "FREE-dom, FREE-dom, FREE-DOM, FREEDOM…."

Ravi Shankar was another opening-day performer. His autobiography recalls Woodstock as "a terrifying experience," the event at which a drug-dazed and rain-soaked counterculture slid literally back underground: "It reminded me of the water buffaloes in India, submerged in the mud."
* * *
It appears that every step we made towards liberty has but brought us in view of more terrific perils.
—From Woodstock, one of the Waverly novels of Sir Walter Scott, born on this day in 1771


* * *

Opium! dread agent of unimaginable pleasure and pain!…what solemn chords does it now strike upon my heart! what heart-quaking vibrations of sad and happy remembrances!
—Thomas de Quincey, born on this day in 1785, recalling his first opium experience in Confessions of an English Opium-Eater
---
Daybook is contributed by Steve King, who teaches in the English Department of Memorial University in St. John's, Newfoundland. His literary daybook began as a radio series syndicated nationally in Canada. He can be found online at todayinliterature.com.