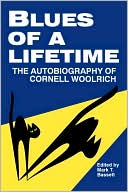 December 4: Onthis day in 1903 the crime writer Cornell Woolrich was born. Woolrich joinedthe pulp boom in the mid-1930s when his mainstream fiction, many of them JazzAge tales with an F. Scott Fitzgerald ring, did not sell. Over his three-decadecareer he wrote two dozen novels and over two hundred stories, many of themrecently back in print. Most of them are so dark that he has been called "thePoe of the 20th century," and many of the movies made from hiswork—perhaps most well-known are Hitchcock's Rear Window and Truffaut's TheBride Wore Black—have earned him fame as the "Father of FilmNoir." To evoke the appropriate pulp-noirtone, Francis Nevins Jr. titles his recent biography of Woolrich, First You Dream, Then You Die—a storytitle that Woolrich once proposed to himself but never used, and that all tooaccurately captures his odd, obscure and sometimes creepy life.
If there is a Hitchcock connection to Woolrich's reclusive,maladjusted tendencies it is surely through Psycho.His early marriage lasted for three weeks; when he abruptly left therelationship, he left behind, perhaps by way of tortured explanation, a lockedsuitcase containing his sailor's uniform and a diary detailing his homosexualadventures. He lived with his mother in a squalid Harlem hotel for most of hislife—twenty-five years, except for the several weeks he broke free of theirlove-hate relationship to live in his own room in the same hotel. After shedied he did try a series of different hotels, but only to move from lobby tobar to bed within them—not even going down the street to meet Truffaut at thepremiere of The Bride Wore Black. Butby this point Woolrich was in a wheelchair: a foot chafed by a too-tight shoe,of all things, had been allowed to develop into gangrene, and the leg had to beamputated.
When he died in 1968 at the age of sixty-four (and weight ofeighty-nine pounds), he gave his estate of nearly a million dollars to ColumbiaUniversity in order that a scholarship be set up for potential writers—in thename of his mother, whom he had never allowed to read a word of his books.
---
Daybook is contributed by Steve King, who teaches in the English Department of Memorial University in St. John's, Newfoundland. His literary daybook began as a radio series syndicated nationally in Canada. He can be found online at todayinliterature.com.