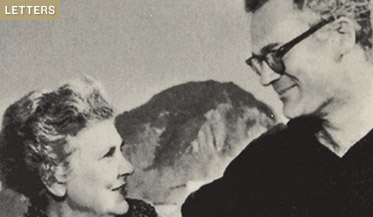 Occasionally a book comes along to pull you into its orbit, pages, and world. You become almost asocial. Somewhere around page 100, Words in Air, the meticulously edited and utterly fascinating collection of letters between Elizabeth Bishop and Robert Lowell, arguably the midcentury's two greatest poets, cast its spell. I wanted to sneak away before bed. I grew vague during conversations with my husband. I missed train stops and coffee dates and stayed up all night on a plane.

I'm not alone in my fascination. A generation after their deaths, both Bishop and Lowell have been subject to a wave of publication, as if we cannot let these two, particularly, slip away. The vantage of years has changed the way we see each: Bishop, whose output was slim during her life, has her devotees posthumously unveiling surprisingly well tailored scraps. Two years ago, her drafts were gathered by former New Yorker editor Alice Quinn in Edgar Allan Poe and the Jukebox. Quinn also hopes to edit her notebooks. Last year, Bishop's collected poems, prose, and letters arrived in their own Library of America edition, edited by Lloyd Schwartz and Robert Giroux. Meanwhile, it's become a commonplace to note that Robert Lowell — whose output was thicker and whose reputation was larger during his life — seems to have paled in comparison. Yet this is the first collection revisiting the decades long friendship between the two, which began at a party at the house of poet-critic Randall Jarrell in 1947 and lasted through Lowell's death, two years before Bishop's, in 1977. For both, the friendship was one of the most important literary relationships of their lives, perhaps the most important.

By and large it is a loving friendship, inspired and mutual, though not without drama. The letters trace travels up and down seaboards; across continents; into and out of various mental hospitals, marriages, relationships and university jobs. Lowell looks out for Bishop's well-being and career, helping her with fellowships and access to the literary centers in which he was lionized. Bishop kept watch and sent keen observations from afar, caring for him with characteristic prudence and tact, despite what seem to be clear objections to some of his later poems (in which he appropriates his soon-to-be ex-wife's letters) and to various blunders and collapses — due partly to illness and partly to bullheaded temper. (When Bishop is well settled with Lota de Macedo Soares, her great love, Lowell writes Bishop that he had once planned on proposing himself. Bishop wisely drops the thread and fills her next letter with wonderful observations of a rainy weekend trip to East Hampton.) For his part, Lowell sees Bishop through Lota's suicide, and the desperate, grieving day when she breaks her shoulder falling on his floor.

In between, the letters are intimate, humorous, querulous, and fantastically brilliant in the other's imagined company. "Like a rheumatic old aunt, I would gladly spoil all your fun just to have you back," writes Lowell "I think I'll try and have payments to your trust fund stopped." It's not quite true but feels close to it. Literary correspondences — Coleridge and Wordsworth, perhaps, Keats and Shelley? — do not readily manifest themselves. There's certainly nothing so American, so modern, nothing between a man and a woman who were both such fine artists, not in love though truly in one another's great thrall.

Each shared an elite New England background, though not an identical one. Bishop, six years Lowell's senior, had been orphaned and handed about among relations as a child, while Lowell was famously and self-consciously a Lowell. Lowell stood as a fulcrum for a new poetics of the self, while Bishop preferred a sidelong mode in both poetics and life. Though she had her share of artistic friendships (with Ned Rorem, Marianne Moore, and Alexander Calder), she lived away from key publishing centers and their chatter, first in Key West and later in Brazil. (Bishop's reticence would be unheard of among most poets today: Lowell spends years begging Bishop to apply to Yaddo, which she eventually does, though not without arriving and noting the number of fellow attendees she does not want to see while there.) Her elegant poems, too, are more circumspect.

It's hard to prioritize the many joys of seeing this collection unfold. There's the sheer voyeuristic pleasure of watching art get discussed, attempted, abandoned, and revisited, as if we have the rare chance to enter the aura of the now almost immortal and feel its mortality — as if The Mills of the Kavanaughs or Life Studies might almost not get written, because Lowell is having a breakdown or a bad day. There is the joy of watching poems be alluded to in a few deft sweeps of language that later bear fruit. "I like it here over the weekends, so nice and silent, even the view looks improved somehow. It's the only time I can think about my own WORK, too," writes Bishop, from her stint at the Library of Congress. Lo and behold, among the works a few years on is her wistful, funny "View of the Capitol from the Library of Congress." Lowell also offers interesting surprises: In 1949 he writes, "Psychotherapy is rather amazing — something like stirring up the bottom of an aquarium — chunks of the past coming up at angles, distinct and then indistinct." It's hard not to notice that "For the Union Dead." Lowell's famous poem about Civil War memory in Boston — one about public memory rather than simply his own — begins:


The old South Boston Aquarium stands
in a Sahara of snow now. Its broken windows are boarded.
The bronze weathervane cod has lost half its scales.
The airy tanks are dry.


Recast, his early image garners new resonance. Lowell suggests overlap between the architectural space of Boston and the space of memory in the mind — a layered struggle to make sense of the architecture of both private and public past that is emblematic of the poetics he will engage throughout his career. The letter and the image are ten years apart, in final, yet the thread of connection weaves them together, begging to be followed.

Connections like these illuminate the path of art, stumbling toward its own making. Yet readers of the letters as a whole don't have to dutifully scour them for clues: The writing here is as accessibly pleasurable as Picasso sketches or Charlie Parker improvisations. Here's Bishop, going on about W. H. Auden's "Musee des Beaux Arts." In it, bystanders ignore Icarus' plunge into the sea, moving on calmly on in the face of his suffering. Bishop says: "What I really object to isn't he attitude about suffering — you're probably right about that. The ploughman and people will rush to see the falling boy every minute, but probably not to help." Here's a bit of the merely social, Bishop again: "After our long dull months of reading, backgammon, gardening, cooking, & READING, life has been almost too teeming recently"; or, "Lota is full of gardening and high finance. I am full of half-poems." Lowell, it is to be noticed, is the more careerist of the two, endlessly noticing what book review or publication either of them is in. They're both apt to write insightful letters and then apologize for them: "Don't take these brushed off sentences for a letter, but I wanted to get something off before my natural dawdling started," he writes.

It is more than a mere workshop: Art wends its way into the mortal world in human snippets. Here's Bishop, writing to Lowell from a stint at the Library of Congress that he helped her get: "Dear Cal, I've always felt that I've written poetry more by not writing it than writing it, and now this Library business makes me really feel like a poet by default." How does one write poetry by not writing it?

In letters, maybe. After experiencing the elaborate care that Bishop (and Lowell, too) put into correspondence, one can't help but reverence the letter's particular address — intimate toward its reader, alert to the world, and artful toward an audience of one. Bishop, particularly — whose great art is in description — elevates the letter into a salon for the mind to find its own bearings in writing, for the story of life to take place. Even as I read this book, I missed the arrival of mail, with its stamps and marks of travel, its need to be torn open. Lowell, devoted so often to the ecstatic communication of a moment's inspiration, might have been OK with email. Bishop, I think, would not have been.