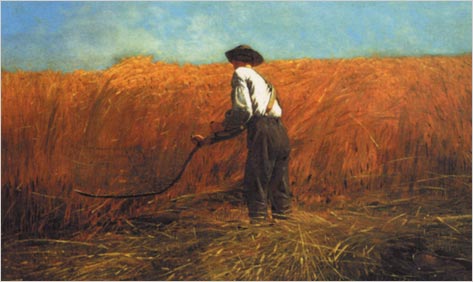 Fortunate are those who love what they do. But in today's corset-tight job market, fortunate are those with steady, full-time employment, even if it's an uncomfortable squeeze. This is especially true for recent graduates. Commencement ceremonies imply the beginning of something, but for many graduates (and their parents), the big question is: The beginning of what? Years ago, when a friend complained about the drudgery of her poorly paid, entry-level job in publishing, her mother said, "They don't call it work for nothing." Now, they call work for nothing "internships," and jobs without benefits "freelancing."

Is it unreasonable to hope to love one's work? Should you expect to "pay your dues" before reaching this holy grail of occupational satisfaction? How much does monetary compensation compensate for tedium? Poet and essayist Donald Hall's Life Work, an inspiring paean to absorbing, fulfilling work, raises questions well worth discussing — particularly in graduation season and during an election year focused on unemployment rates and job growth. This beautifully written ode to impassioned productivity, first published nineteen years ago, is the book I've given more than any other to new graduates and friends launching midlife career changes. In graceful, conversational prose that evokes the homespun good sense of American icons like Pete Seeger and Garrison Keillor, Hall considers "the dignity of utility" and his satisfying literary toil as a poet and essayist, comparing and contrasting it to his grandparents' long, productive days on their New Hampshire farm and his father's miserable desk job at the family's Brock-Hall Dairy business in Connecticut.

Not everyone is lucky enough to have a clear calling like Hall's — or to be able to pursue it. And even the best occupations have their less appealing aspects. Hall makes a distinction between jobs, chores, and work. For him, work represents not drudgery but his highest privilege: "Work is my obsession but it is also my devotion." He's less crazy about fact checking and proofreading, which he considers chores. His college teaching job was "a lark because I got to show off, to read poems aloud," but it also involved correcting papers, a chore.

Hall's bold first line isn't strictly true: "I've never worked a day in my life." He means physical labor, but, as we later learn, he actually "wukked" (New Hampshire pronunciation) for ten boyhood summers on his maternal grandparents' subsistence farm — pitching, loading, and raking hay. It was toil made pleasurable by the companionship of his adored grandfather, Wesley Wells. In his loving descriptions of his grandparents' endless cycle of chores — milking, mowing, weeding, harvesting, repairing, logging, baking, canning, darning — Hall nostalgically evokes a simpler world of waste-not-want-not frugality. He dramatized this sensibility in Ox-Cart Man, his celebrated children's book, about a farmer who prepares all year for market, where he sells everything he makes, including his ox and his cart, and then repeats the process all over again. Some people, Hall notes, find the Sisyphean nature of the ox-cart man's routine discouraging. Not him.

Hall's work also has its repetitive aspects, including frequently recycled (yet richer for the retelling) stories about his grandparents and their memorabilia-filled clapboard 1803 New Hampshire house at Eagle Pond Farm, owned by his family since 1865. This is where he "retired" in 1975, at the age of forty-seven, with his former student and second wife, Jane Kenyon, in order to devote themselves fully to their writing and each other.

It's a feat to write about contentment without coming across as smug, and to tout a simpler way of life without coming across as a scold lambasting shallow values. Hall manages in part by the sheer extent of his literary labors — days that begin before sunrise and proceed from the most demanding writing to the least: poetry to prose to essays, and finally, letters, dictated while watching evening baseball games brought to him courtesy of his "bliss dish." The self-portrait that emerges is of a graphomaniac: Working full tilt, Hall published, by his count, a piece of writing every week, and sent about 5,000 letters and postcards a year. He quips: "Once when the mailman was late I bit his leg." One can't help wondering — with some trepidation — if he's since taken to email.

Although Hall defines contentment as "work so engrossing that you do not know you are working," part of his contentment lies outside work, in his shared domestic routines with Kenyon. After he is diagnosed with liver cancer partway through the book's composition, "losing two-thirds of a liver and nine-tenths of my complacency," he comes "so close to Jane that I feel as if I had crawled into her body through her pores — and, although the occasion of this penetration has been melancholy, the comfort is luminous and redemptive."

Rereading Life Work now is especially poignant, for although we know that Hall, against the odds, has survived, we also know that Kenyon — nineteen years his junior — improbably, heartbreakingly, died of leukemia at forty-seven in 1995, just two years after the book's publication. Rather than putting a halt to Hall's productivity, Kenyon's death led to an outpouring of highly burnished distillations of grief in both poetry and prose. These include The Old Life (1996), Without (1998), The Painted Bed (2002), and The Best Day the Worst Day: Life with Jane Kenyon (2005). Among spousal tributes, few are more moving than Without. In the poem "Letter After a Year," he tells Kenyon that he walks in the graveyard with their dog every day. Sad? Yes. But he lets her (and us) know that his wit is intact: "I'm the one who doesn't / piss on your stone." He has also worked mightily to keep Kenyon's voice alive, editing two posthumous volumes of her work: Otherwise: New and Selected Poems (1996) and A Hundred White Daffodils (1999), a collection of her miscellaneous prose.

For an overview of less lofty forms of employment, Studs Terkel's great oral history, Working (1974), is the bible. In scores of interviews, Terkel explored the search "for daily meaning as well as daily bread" in a wide variety of fields, including mining, sales, carpentry, sports, and nursing. In The Pleasures and Sorrows of Work (2009), Alain de Botton observes that it is only relatively recently in human history that work (rather than lineage) has come to define our identity and that self-fulfillment — in addition to money — has become an important motivator. But the peripatetic philosopher's look at some of the increasingly specialized and soul-sapping occupations in the industrialized world, such as cargo shipping and snack food product development, is pretty disheartening.

For better or worse, fiction and drama often color our sense of specific occupations: Arthur Miller's Willy Loman has for many of us become the iconic salesman, and John Updike's Rabbit Angstrom a representative car dealer. For a hilarious send-up of office life, the title story of Daniel Orozco's Orientation, in which a new worker is given an office tour, is a must-read. ("This is your phone. Never answer your phone. Let the Voicemail System answer it.") Joshua Ferris also skewers cubicle culture with his bitingly funny first novel, Then We Came to the End (2007), set in a Chicago advertising agency in 2001 during a period of unsettling layoffs after the dot-com bubble burst. Finally, Kris D'Agostino's recently published first novel, The Sleepy Hollow Family Almanac, plays a Gen-Y slacker's uncertainty about his future for laughs and gasps. His narrator, saddled with massive student loan debt, boomerangs back home and takes a temporary job working at a preschool for autistic kids while desperately trying to figure out what to do with his life and how to escape and/or save his loony family, who are threatened with foreclosure after his father, a pilot, is grounded by cancer and depression.

Sound tough? Hall's advice would probably include: "Diligence vincit omnia." (Diligence conquers all.) How so? When one becomes lost in the task at hand, whatever it may be — writing poems, weeding the garden, crafting a killer cover letter — worries have a way of receding into the background.