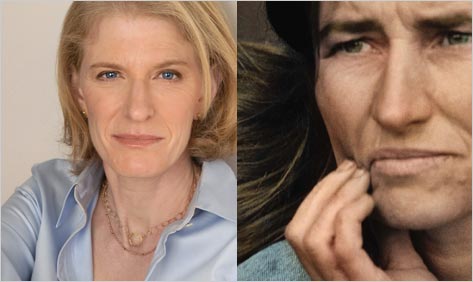 You can stare at that photo of Florence Owens Thompson, taken by Dorothea Lange in 1936, for hours. It's like a conversation that way. Or, you can let the years pass and go back to it and notice something different every time. Today, for example, this viewer stares at the cover of Marisa Silver's new novel, Mary Coin, and notices the bowl-shaped haircut of the child whose head rests on Thompson's shoulder as he looks away from the camera. Also that Thompson looks more than a little bit like Silver herself; northern ancestry, high cheekbones, Finnish eyes, and a slightly worried expression. Or is she a female Zelig — Everywoman?
"Not me!" Silver says. "She looks like my grandmother!" A promising film director in her twenties, an MFA student and new mother in her thirties, and a full-fledged writer with three (now four) novels and a short story collection by fifty-two, the author admits that she "chose Mary Coin because I recognized something in Florence Thompson's face. Those two children squeezed into the frame accentuate her acute responsibility for their lives." She was struck, she says, by Thompson's beauty, and by her duress. "I recognized her as a mother."
Silver had seen the photograph many times in books, but it wasn't until she saw it in a Museum of Modern Art exhibit several years ago that she realized how many mysteries were embedded in it. A little tag to the right of the photo explained that Thompson had not revealed who she was — even after the photo had become an iconic image of the Depression and sealed Lange's fame — until she was on her deathbed. Why? Silver wondered. Shame? Embarrassment?
Silver's filmmaker beginnings came into play: This was a photograph inside a documentary. Who was the maker? What did the photographer see in that face? Silver says that her novels always begin with a character. It wasn't until she found herself naming these characters — the photographer, Vera Dare, the subject, Mary Coin — that she began to see the novel unfold.
Silver moved to California in her twenties from the East Coast: "Everything was so new for me; I took it all in on an intellectual but also an emotional level. I saw the complications of the California dream. I saw how people's lives were and are affected by the land and what happens to the land. I saw for the first time what a profound effect land has on characters." But Silver balks at terms like "California writer" and "California novel." "California eludes us all," she laughs. "It defies easy explanation."
Silver says that while she is respectful of the real lives her characters are based upon, she was not interested in writing a biography. "I wanted to create new lives, to invent their feelings and thoughts." In this effort, the author was inspired by the work of E. L. Doctorow, whose novels lay their foundations in fact. Walker, a character in the novel who teaches the Art of the Image, embodies Silver's impulse to create history from ephemera. "This is not a class about looking," he tells his students. "You look away and you stop thinking, you stop imagining…. This is a class about seeing. And seeing is something else altogether. Seeing is about looking past surfaces of predetermined historic and aesthetic values. Seeing is about being brave enough to say: This unimportant image or piece of information that no one cares about? Well, there is a story here, too, and I'm going to find out what it is." Some of the mysteries embedded in the photograph contain clues that fill in blanks in Walker's family history.
Silver's novels (The God of War, No Direction Home) and her stories (Alone with You, Babe in Paradise) contain a hidden drive, a feeling of something at stake, at risk. Like Walker, she is personally invested in uncovering some truth by telling stories. Social justice, working people, single mothers appear in all of her books, but she insists that she does not set out to debate political ideas or grandstand on issues. In Mary Coin, the life of the migrant laborer in Depression-era America is an important part of the book. "I'm interested in people who work," Silver says simply. "People without a lot of choice; people who lives with high stakes, alongside a constant risk of failure."
This brings us to the subject of teenagers, since both of us have them. Silver's two boys are nineteen and sixteen. "The lives of teenagers seem so precarious," she laughs. "There is that fabulous moment of trying to seize one's personality…terrifying…. I remember it…and I empathize deeply with people on the receiving end of their stress!" Do her boys read her books? No, Silver says. "But they are super proud of me — a mother who tells stories! I think they know that what I write has a personal piece, too, something in flagrante…. That's the part they'd rather not read!"