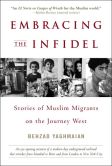 Today is World Refugee Day. Behzad Yaghmaian's Embracing the Infidel: Stories of Muslim Migrants on the Journey West (2006) consists of interviews the Iranian-born Yaghmaian conducted over two years as he moved among the expatriate communities of Europe and North America. The story of Tufan, a Kurd in his mid-twenties living on sardine handouts in Paris, begins with his dream of getting his wife out of Tehran and becoming a writer. Over a series of meetings, Tufan gradually confides details of the lives of his gay Iranian friends, a group in constant jeopardy and double flight. Farid, for example, who is arrested by Tehran's morality squad and given two months' solitary confinement, during which time he is repeatedly gang-raped, forced into heroin addiction, sworn to secrecy, and eventually found dead in an abandoned lot. Shahnaz, outed from his employment as a cross-dressing dancer at weddings, descends to prostitution, many of his clients themselves refugees from Afghanistan. When Shahnaz commits suicide, Tufan and his friends mourn:
"We bought fifty carnations and put them on the tombs of fifty strange men and women buried in the cemetery," Tufan said.

The men gathered at a friend's home and spoke like warriors, members of a dissident group, and advocates of a common cause. One by one, they spoke in memory of their fallen friend.

"Shahnaz was taken away, but others will join.…We live like animals here, but we have one another. They kill us, but with each death, many more will join us. We will prevail."
Telling his friends' stories gives Tufan the courage to tell his own — about his homosexuality, his complicity with an arranged marriage, his days spent with his abusive male lover while his teen bride waited in her room across the courtyard. They have never lived together, the marriage has not been consummated, and Tufan has been on the refugee road for five years, but he feels pledged to honor her faith in him and her letters of confused longing:
…I hope to be together for our next anniversary. I hope for the day that we would walk freely under the drizzle at night. We would walk to our small house. I would make tea and you would read me books. It is 1:30 in the morning now and I am drinking tea alone. I wish you were here with me.
---

Daybook is contributed by Steve King, who teaches in the English Department of Memorial University in St. John's, Newfoundland. His literary daybook began as a radio series syndicated nationally in Canada. He can be found online at todayinliterature.com.