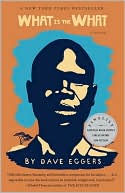 Today is World Refugee Day, as designated by the United Nations in 2001, though the day has been observed internationally for sixty years now. Appreciating that the raw numbers can be mind-numbing — over 40 million people are currently in relocation or flight — the UN website features a number of individual refugees telling their first-person tales. This is the approach behind Dave Eggers's What Is the What (2006), a novelized autobiography of Valentino Achak Deng, one of Sudan's "Lost Boys."

In his Preface, Deng tells us that Eggers's book is based on many years of taped interviews, during which Deng told his story of "trekking across many punishing landscapes while being bombed by Sudanese air forces, while dodging land mines, while being preyed upon by wild beasts and human killers." In his author interviews, Eggers tells us that his struggles to find a narrative voice and framework for Deng's experiences were resolved when Deng, now resettled in Atlanta, emailed to tell him that he'd just been the victim of a home invasion burglary. Seeing this latest in a lifetime of robberies as a way of telling Deng's story, Eggers begins What Is the What with Deng living in one of the world's most affluent countries, working his way toward a college degree, staring at thieves piling up all his new belongings and wishing for his old life of dispossession in Kakuma ("Nowhere"), his refugee camp in Kenya:
In Kakuma there was no rain, the winds blew nine months a year, and eighty thousand war refugees from Sudan and elsewhere lived on one meal a day. But at this moment, when the woman is in my bedroom and the man is guarding me with his gun, I want to be in Kakuma, where I lived in a hut of plastic and sandbags and owned one pair of pants.
By the last chapter of What Is the What, having gathered strength from the telling of his life tale, Deng is once again resolved to "reach upward," to "do better," to "not be a burden upon those who have helped me too much already." Today he travels the world raising funds for the Valentino Achak Deng Foundation, the nonprofit he and Eggers started. So far, the foundation has managed to open a new (and the only) secondary school in Deng's hometown of Marial Bal, now in the new nation of South Sudan.
---
Daybook is contributed by Steve King, who teaches in the English Department of Memorial University in St. John's, Newfoundland. His literary daybook began as a radio series syndicated nationally in Canada. He can be found online at todayinliterature.com.