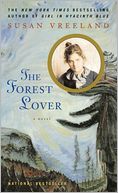 The Canadian painter and writer Emily Carr was born on this day in 1871. Carr's autobiographical books can be read as a window into her art, as demonstrated by Susan Vreeland in The Forest Lover, her bestselling 2004 novel based on Carr's life. Vreeland's Carr first heads to the forests of British Columbia as escape from a sermonizing father and "a starchy missionary house with the Ten Commandments plastered on the wall." In the opening chapter of her memoir The Book of Small, Carr gives her own description of what drove her to paint, and worship, the outdoors:
All our Sundays were exactly alike. They began on Saturday night after Bong the Chinaboy had washed up and gone away, after our toys, dolls and books, all but The Peep of Day and Bunyan's Pilgrim's Progress, had been stored away in drawers and boxes until Monday, and every Bible and prayerbook in the house was puffing itself out, looking more important every minute….
In Growing Pains (1946), Carr describes how her older sister joined the attempts to whip Emily's free-spirited ways out of her. When one beating caused her to faint, Carr gave notice: "I said to my sister, 'I am almost sixteen now and the next time you thrash me I shall strike back.' That was my last whipping." In the passage which follows next in that volume of autobiography, Carr describes finding both independence and "the deep lovely places that were the very foundation on which my work as a painter was to be built":
The whip dangled idle on the hall peg, except after school and on Saturdays when I took it out as an ornament and went galloping over the country on old Johnny. Johnny had been a circus pony. He knew a lot. When he galloped me beyond the town and over the highway till all houses and fences were passed, he would saunter, stopping now and then to sniff the roadside bushes as if considering. Suddenly he would nose into the greenery finding a trail no one else could see, pressing forward so hard that the bushes parted, caressing him and me as we passed, and closing behind us shutting us from every "towny" thing. Johnny pressed and pressed till we were hidden from seeing, noise and people. When we came to some mossy little clearing where soft shade-growing grass grew, Johnny stopped with a satisfied sigh. I let down his bridle and we nibbled, he on the grass, I at the deep sacred beauty of Canada's still woods.
---
Daybook is contributed by Steve King, who teaches in the English Department of Memorial University in St. John's, Newfoundland. His literary daybook began as a radio series syndicated nationally in Canada. He can be found online at todayinliterature.com.