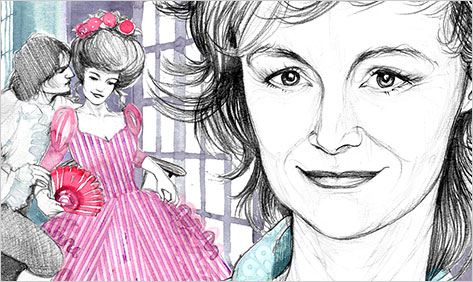 I once caught sight of my husband running down the street, crutches under his arm, late to teach a class. Years later I was unsurprised when he refused to go to the hospital after a car accident. Only after being diagnosed with a concussion did he admit that his class hadn't gone very well. Injured men are a pain. They refuse to stay in bed, be X-rayed, take it easy. They get surly, if not downright mutinous.

And yet we adore a romance in which a defiant struggle against weakness turns to a virtue, and a physical wound becomes a metaphor for the healing power of the beloved. In these five novels, wounded warriors struggle with pain and injury before realizing that heroism has nothing to do with physical perfection. Each of these men feel incomplete — until a woman makes them feel whole again.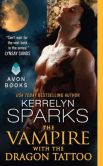 Douglas Kincaid, the hero of Kerrelyn Sparks's The Vampire with the Dragon Tattoo, lost his hand in battle a few years ago. Though he is still stronger and more gifted than most — how many people do you know who can teleport? — he experiences a combination of rage and humiliation whenever his prosthetic hand is mentioned. Even worse, the moment he meets a young scientist, Leah Chin, his telepathically controlled prosthesis starts misfiring. Sparks's trademark wit and charm are in full play as Douglas tries hard to convince Leah that a wounded vampire is worth taking a risk (he wants to boink, not bite her). But the metaphor of a wounded soldier who finally makes his prosthetic work well enough so that he can play music is deeply moving.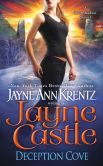 Just as Kincaid's metal hand is actually driven by his telepathic abilities, Jayne Castle's hero in Deception Cove lives with an injury partially ameliorated by a paranormal gift. After being almost blinded in a lab accident, Drake Sebastian must wear reflective sunglasses at all times. Still, the accident has enhanced his ability not only to see in the dark but to influence "dark light." When he meets Alice North, a small-time magician whose only talent is to make herself invisible, he finds himself caught up in a race to save an exploding island — and Alice's life. The world of Harmony, where Castle sets her novels, is a Wild West set in space, and Drake is a quiet yet fearless cowboy hero who turns his disability into a remarkable strength.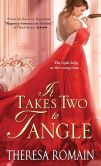 If Kincaid's prosthetic hand makes it difficult for him to play his bagpipes, Henry Middlebrook's missing right hand, in Theresa Romain's It Takes Two to Tangle, makes it difficult for him to paint. No prosthetics are possible in a novel set in 1815, so war widow Frances Mullier is shocked when Henry Middlebrook bows and his right arm swings down, "loose as the limb of a puppet." Frances immediately vows to make Henry happy again, promising to help him court her friend Caroline. Frances and Henry are irresistible, funny, and sexy, and yet beneath their romance lies a bedrock of painful feelings. Between them, they overcome the weight of loss and the barrier of pride: Two to Tangle is a beautifully written novel that balances laughter with healing.


Nick Jenkins, the hero of Alexis Morgan's A Time for Home, is another soldier who suffers damage to his arm — this time from shrapnel injuries received in Afghanistan. But Nick's wounds are less physical than mental: he is agonized by guilt over his failure to save his friend Spence, who died in the same incident in which Nick was wounded. So he brings Spence's beloved dog, Mooch, home to the woman whom Spence wanted to marry, only to find that he wants Callie Redding for himself. A Time for Home weaves a complicated dance around the question of forgiveness. In order to accept Callie's love, Nick needs to forgive himself, as well as accept the fact that love can create situations that have life-and-death intensity, even if no bombs lurk in the vicinity.


Rebecca York's Bad Nights is the only novel among these in which the hero, a private operative and former Navy SEAL, is still actively at war. Morgan Rains looks out her window one night and sees a completely naked, utterly gorgeous man stumbling around the yard of her remote little cottage. When she drags him inside, she discovers that Jack Brandt has been badly beaten and tortured. Before he has more than a chance to rest, the private militia that he had infiltrated burns down the cottage, and Morgan and Jack have to run for their lives. As with Nick, Jack's pain runs deeper than his body: he too came back alone from a mission in Afghanistan. And Morgan is a widow, with grief of her own to overcome. Together they realize that life has no guarantees, so one must live — and love — to the fullest.
---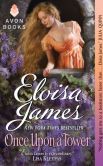 Eloisa James's latest romance is Once Upon a Tower; you can browse all of her books here.

You can check out Eloisa's past columns in the Archives, and if you'd like to get her reactions to romances as she reads them, follow her on Facebook or Twitter.
For sneak peeks at all of Eloisa's romances, please visit her web site at www.eloisajames.com.