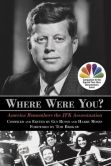 As I was sitting down, I glanced over, looking at him, and I saw a package in the back seat. I said, "What's in the package?" and he said, "You remember I told you yesterday I was going home to get some curtain rods?" I said, "Oh, okay." That's the last I thought about it.
The recollections in Where Were You?: America Remembers the JFK Assassination cover a range of voices and places, and often resonate eerily. The above is from Buell Frazier, Lee Harvey Oswald's co-worker at the Texas Book Depository, and the man who drove Oswald to work on the day of the assassination. Frazier watched the president's motorcade from the Depository steps; thirty-two-year-old Dan Rather, then a bureau chief at CBS, also watched nearby, as he waited for a film drop from the photo crew shooting the event. Like Frazier, Rather didn't hear shots or know what had happened, even as he rushed to report it:
There's a rise — what is now the infamous grassy knoll. As soon as I topped that, a scene of almost unbelievable chaos, even panic: There were men falling on top of their children and wives, people screaming….
After running several blocks to the local CBS affiliate station, Rather and his colleagues, still not knowing exactly what had happened, began calling hospitals:
I got through to Parkland Hospital, and a switchboard operator — which tells you how long ago this was — put me through first to a doctor, then to a priest. I said, "Has the president been shot?" They said, "Yes the president's shot, and the president's dead."
"The president's dead" — what a hammer to the heart and the psyche.
---
Daybook is contributed by Steve King, who teaches in the English Department of Memorial University in St. John's, Newfoundland. His literary daybook began as a radio series syndicated nationally in Canada. He can be found online at todayinliterature.com.