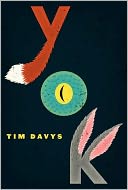 Welcome to Mollisan Town, a burg like many another literary venue, full of citizens rich and poor, honest and criminal, loving and mean, where odd and exotic events occur with life-changing regularity. You'd recognize the commingled noir and magic-realist lineaments of the place from books by Jorge Amado and Jeff VanderMeer, from movies like Chinatown and Pan's Labyrinth. Except for one thing. The inhabitants of Mollisan Town are animate stuffed animals. Yes, creatures of cloth and wool batting, fur and buttons, fabricated in factories before being delivered to their designated natal homes, who nonetheless manage paradoxically to eat and breathe, feel and die.

Lucky readers have encountered Mollisan Town and its Steiff-like citizenry in three previous novels: Amberville, Lanceheim, and Tourquai, each book named after a neighborhood of Mollisan Town, as is this latest, Yok. (I'm coming to this playground for the first time.) Their creator, Tim Davys, is someone hiding behind a pen name, ostensibly a writer of Swedish origins. I'll make a wild speculation about Davys's real identity at the end of this piece.

Yok is the poorest, slummiest district of Mollisan Town, and Davys decides to present the broad spectrum of life there via four stand-alone tales, each one bearing a Yokkian neighborhood's name. In "Sors", a fox named Antonio Ortega — a kind of lovable Zoolander airhead, famed more for beauty than brains — falls in love with Beatrice Cockatoo, daughter of mob boss Dragon Aguado Molina. The price for daring to love her proves nearly fatal. "Pertiny" is a pure Cinderella tale, concerning Eric Gecko, whose two brothers, Leopold Leopard and Rasmus Panther, often keep him chained in the basement while they preen themselves for a TV-show contest. Mike Chimpanzee is the protagonist of the slight but still enjoyable tale "Corbod". A creatively anguished rock star, Mike has to endure the interminable wedding plans of his high-class girlfriend, Cocker Spaniel Rozenblatt, the machinations of his manager, and the begrudging ministrations of an accidentally unleashed genie from an ink bottle. Finally, in the longest and most fraught venture, "Mindie," which reads like The Great Gatsby as co-authored by Albert Camus and John Barth, Vincent Hare undergoes a senses-deranging existential quest to unravel the meaning of life for himself and all stuffed animals, but ultimately bumps up against the limits of all living.

Many of the pleasures of Yok inhere in the shifting dynamics between how Davys presents the stuffed animal nature of the characters and how he describes their "person-like" activities. There is a curious and teasing multivalency to their natures. On the one hand, for instance, Vincent Hare "was a light yellow stuffed animal with a crocheted nose. The inside of his long ears was covered with warm pink silk." And of course every good Mollisanian household possesses a "drying cabinet" for restoring dampened fabric skin.

On the other hand, Mike Chimpanzee is subject to his mother, Ilja Crocodile, "holding his head pressed against her voluminous bosom. She had on her tall hat and her thick, dark red coat, with fur trim…. She reeked of perfume." So at times the book reads like any well-done animal allegory, while at other times the reader is swept up in the naturalistic surface narrative. Occasionally, the two levels fuse, as when Vincent makes love to Maria Goat: "The fan exposed fabric that had never before been exposed. It turned her coat to one side and revealed her seams. She moaned again." It all reminds me of a curious forgotten novel I love, Christopher Morley's Where the Blue Begins, about a canine adventurer in a similar shifting venue.

Of course, Yok will also summon up a thousand other associations for readers who have enjoyed this sort of tale before. Tony Millionaire's Sock Monkey graphic novels come to mind. Sometimes one fancies that Brian Jacques of Redwall fame has dipped his pen in. The intersection of toon and human in Who Framed Roger Rabbit? seems highly relevant. And no discussion of Yok's antecedents would be complete without a nod to the Bear of Very Little Brain, Winnie the Pooh.

But the predecessor I am most reminded of is Walter Moers, with such novels as Rumo and His Miraculous Adventures. The same mix of whimsy and black humor, anthropomorphism and feralness. The same overstuffed narratives full of weird occurrences. Could Moers, who has been relatively quiet of late, be hiding behind the Tim Davys byline? Even if Davys is not Moers, these books deserve to share the same privileged shelf space.
---

Paul Di Filippo's column The Speculator appears monthly in the Barnes & Noble Review. He is the author of several acclaimed novels and story collections, including Fractal Paisleys, Little Doors, Neutrino Drag, and Fuzzy Dice.