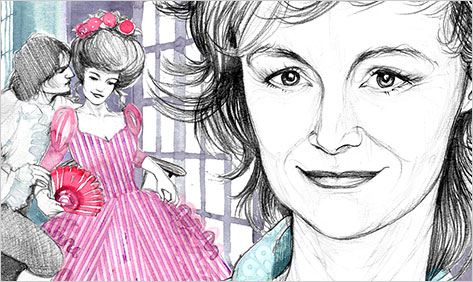 In the world of romance, blackmail is practically respectable; situations that would lead directly to a sheriff's office take on a rosy glow. All five of these romances include a dash of blackmail delivered with a topping of coercion, from a sea captain bribing his way to a kiss to a scoundrel who demands seven days (or rather nights) in his bed in payment for a gambling debt. Reading these novels, one would think that Hermes, the Olympian god of trickery, had stolen Cupid's arrows. Yet as all the creators of Greek myths knew, suspending the consequences of an immoral bargain makes for some of the most unforgettable stories. The women (and one man) who find themselves forced into propinquity respond with irritation and rage…but fall in love. A deeply romantic truth replaces the ugliness of compulsion when Campbell's hero kisses the heroine "as if he'd never let her go": the force of his emotion brings forgiveness.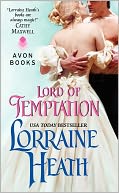 Lorraine Heath's Lord of Temptation falls into one of my favorite genres, the pirate romance. Lord Tristan Easton captains his ship as Crimson Jack, a notorious privateer. It's Crimson Jack, of course, who coerces Lady Anne into hiring his ship to take her to Scutari and back. His payment is one kiss, in a time and place of his choosing. What a kiss it is! Tristan manages to spin out that kiss all the way to Istanbul and back. But there's no future for a lady and pirate…until Crimson Jack transforms into Tristan and appears in the ballroom — and then, later that night, in Anne's own bedchamber. The whole plot of Lord of Temptation turns around coercion: their initial journey is followed by a game of chess in which every piece captured wins a prize. You'll find yourself cheering when Tristan finally realizes that Anne is his "safe harbor" and he no longer needs to trade voyages or chess pieces for the kisses she freely offers.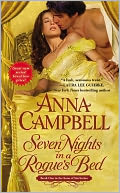 Anna Campbell's Seven Nights in a Rogue's Bed is at once elegant and wildly sensual: its sweep of dark passion reminded me of early historical romances written by Judith McNaught, fortified with a touch of the gothic. The hideously scarred Jonas Merrick lives alone in a castle, having been declared a bastard and stripped of his birthright. Naturally, storms "split the heavens" the evening that Sidonie Forsythe arrives at the castle to fulfill the seven nights of debauchery that her sister offered as payment for gambling debts. The plot of Seven Nights offers all the delicious trappings of a gothic novel, from thunder to the misplaced document Jonas needs to claim his inheritance. But the relationship between Sidonie and Jonas is witty and sensual in a way that gothic novels often misplace in a welter of suspected murders and brooding heroes. Jonas does brood, but Sidonie is more than a match for him. Together, they form a combustible pair, loving each other just as fiercely as they battle that attraction.


On the surface, Eric Warden, the hero of Jennifer Ashley's paranormal Mate Claimed, is Jonas's opposite. Rather than being dispossessed, scarred, and alone, Eric, a gorgeous alpha snow leopard, is the leader of Shiftertown. Yet in truth they are both disenfranchised: Jonas by the evil cousin who stripped him of his title and birthright, and Eric by the laws that keep Shifters confined to the outskirts of town and curbed by silver collars that control aggression. As a consequence of Shifters' second-rate status, Ashley's heroine, Iona Duncan, is desperately hiding her ability to shift, trying to avoid being forced into a collar. If Eric carries out his threat to expose her as half panther, she will lose her job and her way of life. Like Jonas, Eric forces his way into Iona's life, manipulating her vulnerabilities in order to win time at her side. And yet, in the end, he is the more vulnerable and the more lonely; Iona's love heals wounds he didn't know he had.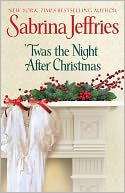 Sabrina Jeffries's 'Twas the Night After Christmas features another disenfranchised man, but this time one without family rather than a title. Pierce Waverly, the Earl of Devonmont, turned his back on his mother long ago. He pays her an allowance but tosses her unread letters into a box, his anger and sense of betrayal so great that he can't bear the sound of her name. Even so, when he receives an express letter from his mother's companion, Mrs. Camilla Stuart, indicating that his mother is dying, he sets out on a duty call — only to find that Camilla's letter was a lie. Camilla is, as Pierce puts it, the kind of woman who "still believed in love," so much so that she trades her virtue in order to buy Pierce's mother some days with her son. By bribing Pierce to spend time with the mother he loathes, Camilla forces him to understand that he has only hurt himself. As befits a Christmas novel, this is a sweet and sexy story of second chances, in which Camilla's bribery leads to a happy miracle.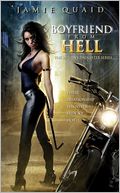 The heroine of Jamie Quaid's Boyfriend from Hell is a law student who happens to have a job in the Zone, Baltimore's radioactive neighborhood, where the "Zone effect" breaks machines, disrupts communications, and spawns magic. Tina Clancy's problems start when she wields a power she didn't know she possessed and accidentally damns her boyfriend, Max, to hell. Now Max is demanding that she break him out of the underworld, at the same time that her gorgeous (but disreputable) boss, Andre, is demanding that she go to dinner with him. Tina strikes me as a paranormal version of Janet Evanovich's Stephanie Plum: witty, sarcastic, and torn between two men, one of whom is a former cop, wears black, and drives a Mercedes. Given her magical powers, Boyfriend from Hell's sharp-tongued heroine has much more power than hapless Stephanie. Even so, Andre forces Tina into his bar, and then into his car, and finally into his arms…frankly, I was waiting for his bed. And when he turns all "Special Ops," saves her life, and kisses her "as if he really meant it," I checked my NOOK for the sequel.
---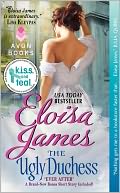 Eloisa James's new romance, The Ugly Duchess, is out now!
You can check out Eloisa's past columns in the Archives, and if you'd like to get her reactions to romances as she reads them, follow her on Facebook or Twitter.
For sneak peeks at all of Eloisa's romances, please visit her web site at www.eloisajames.com.