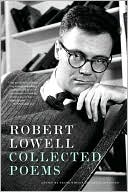 March 1: Robert Lowell was born on this day in 1917. The people and places of Lowell's historic and distinguished clan are featured in a number of his poems and prose pieces. The memoir "91 Revere Street," reprinted in Lowell's award-winning poetry collection Life Studies (1959), recalls the Boston house that Lowell and his family moved into when he was seven. Although they lived barely fifty yards from the best homes of Beacon Hill's Boston Brahmin society, Lowell's mother regarded herself "barely perched on the outer rim of the hub of decency." She was the type of blueblood who would say, "I have always believed carving to be the gentlemanly talent," and Lowell's father, a naval officer, would read carving books and take carving classes in order to meet expectations. But young Robert had a wider curiosity, and got a reputation for rebelliousness early. When he and his private school classmates were taken for walks through the more exclusive Boston Public Garden, he would "loiter by the old iron fence and gape longingly across Charles Street at the historic Boston Common, a now largely wrong-side-of-the-tracks park":
On the Common there were mossy bronze reliefs of Union soldiers, and a captured German tank filled with smelly wads of newspapers. Everywhere there were grit, litter, gangs of Irish, Negroes, Latins. On Sunday afternoons orators harangued about Sacco and Vanzetti, while others stood about heckling and blocking the sidewalks.
Perhaps it was this contrast — his Sundays preoccupied with the perfect slice of beef, others' Sundays full of gangs and politics — that helped propel Lowell into exile:
One day when the saucer magnolias were in bloom, I bloodied Bulldog Binney's nose against the pedestal of George Washington's statue in full view of Commonwealth Avenue; then I bloodied Dopey Dan Parker's nose; then I stood in the center of a sundial tulip bed and pelted a little enemy ring of third-graders with wet fertilizer. Officer Lever was telephoned…. In the presence of my mother and some thirty nurses and children, I was expelled from the Public Garden.
---
Daybook is contributed by Steve King, who teaches in the English Department of Memorial University in St. John's, Newfoundland. His literary daybook began as a radio series syndicated nationally in Canada. He can be found online at todayinliterature.com.