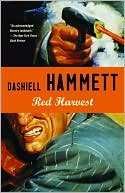 "Peter Collinson" published "Arson Plus" in Black Mask magazine on this day in 1923, introducing a nameless hero called "the Continental Detective." Soon the hero was "the Continental Op," and soon Dashiell Hammett was signing his work with his real name. Hammett put the Op in three-dozen stories over the next seven years, triggering the hardboiled genre, and he moved his hero into his first novel, Red Harvest. The story takes place in a Montana mining town called Personville — "Poisonville," as many of the locals would have it. The Op arrives to investigate labor troubles, but he is soon tracking down murder and general corruption. His first impression is that Personville is "an ugly city of forty thousand people, set in an ugly notch between two ugly mountains." When the power barons make the mistake of trying to buy and then bump him off, the Op shows that he can get ugly too:
Your fat chief of police tried to assassinate me last night. I don't like that. I'm just mean enough to want to ruin him for it. Now I'm going to have my fun. I've got ten thousand dollars of your money to play with. I'm going to use it opening Poisonville up from Adam's apple to ankles. I'll see that you get my reports as regularly as possible. I hope you enjoy them.


Raymond Chandler's Farewell, My Lovely was published on this day in 1940. Although he famously praised Hammett as the one who "took murder out of the Venetian vase and dropped it into the alley," Chandler went on to say that the vase "doesn't have to stay there forever." Immediately below is a bit from Hammett's "The Whosis Kid," one of his Continental Op stories; after that, to demonstrate the direction in which Chandler took the gumshoed version of the romantic hero, a bit from Farewell, My Lovely:
I didn't kid myself that my beauty and personality were responsible for her warmth. I was a thick-armed male with big fists. She was in a jam. She spelled my name P-r-o-t-e-c-t-i-o-n. I was something to be put between her and trouble.

I sat beside her on the yellow leather chesterfield. "Aren't you a pretty fast worker?" she asked quietly. I didn't answer her.

"Do you do much of this sort of thing?" she asked with a sidelong look.

"Practically none. I'm a Tibetan monk, in my spare time."

"Only you don't have any spare time."
---
Daybook is contributed by Steve King, who teaches in the English Department of Memorial University in St. John's, Newfoundland. His literary daybook began as a radio series syndicated nationally in Canada. He can be found online at todayinliterature.com.