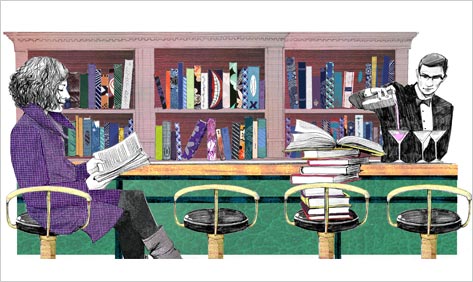 As far as we can tell, despite our worst efforts, places of business continue to throw their annual parties. So we herewith repeat this cautionary tale from last year, in the hope that it will prevent at least a few people from wrapping themselves in streamers and coming on to that guy or gal in Accounting. — The Editors
Welcome to your workplace holiday party– we're so glad to have forced you to come. And this must be your plain-looking spouse. Here's where we make a comment that could be construed to mean we're unhappy with your work and your job is in jeopardy. Now we laugh, because we're kidding. Or maybe we just like to laugh. Please, take off that vagrant's coat you're wearing. No, don't put it near our coats.

Come join an awkward conversation circle with the woman who stole your promotion and the guy who thinks you don't know he dented your car in the parking lot and didn't leave a note. Yes, that local sports team is doing terribly. Sure, the stock market is a thing that exists. No, there is no one across the room you can pretend is giving you an excuse to leave this conversation.
Please enjoy this delicious spread of food paid for with the money that used to fund our health insurance plan. It might make you sick, but that's entirely your responsibility since July 1st of this past year. How's that working out for you? Time to gossip about people who aren't here. Now aren't you glad you showed up? That makes one of us.

Hey– the CEO is starting his speech about how wonderful his compensation package is. Watch him stumble over his words and not realize his index cards are out of order. See, he's no smarter than you. He just got lucky. Doesn't that make you feel better about your life? It doesn't? Should it? These are some of the questions you should ponder, instead of listening to the CEO explain that you probably aren't getting a bonus.

The gift exchange is about to start. Did you obey the $10 limit? How silly of you– now your gift will seem embarrassingly cheap. You might wonder why we force a gift exchange among colleagues who have no interest in actually exchanging gifts. It's actually all for our own amusement. Just like the way we sometimes shut off the air-conditioning system. You think it's broken? Nope, we're multi-tasking–saving money and torturing you at the same time.

Look at that raffle prize! It's worth almost three months of your salary. And who's going to win it? The CEO's wife! Yep–some people have all the luck. What? Of course your ticket gave you a real chance to win– if by "win" you mean "lose." You probably also thought the liquor tonight was free. Nope– you'll see its cost deducted from your next paycheck, along with a service fee, plus a hefty tip for the bartender, who just happens to be the CEO's son. He's going to invest it in a start-up that's working to develop robots that can do your job– much better than you can, and for a fraction of the cost. Now you're feeling that cocktail, right? And not a moment too soon.

Oh, look– your boss is leaving. That means it's okay for you to leave, right? Or so you think. What you don't know is that he's actually coming right back, and you're going to miss the part of the night when the few people who are still here get their health insurance back and receive a hefty raise. You'll hear about it tomorrow. And everyone will ask why you left so early. Are those tears of joy? Yes, it's a lovely party, especially the private room in the back, where you're not allowed.
We'll see you tomorrow, on our surveillance cameras.

Jeremy Blachman is working to develop robots that can write humor pieces. Read some of their work at jeremyblachman.com.