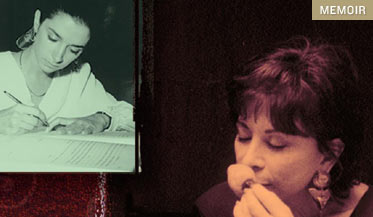 Reading Isabel Allende?s newest memoir is like showing up at a party of someone else?s relatives and settling into the thoroughly engaging company of the family matriarch. She tells the story of 15 years of her life with disarming honesty and a deeply self-deprecating humor, illuminating collective truths about the challenge of maintaining boundaries in close relationships and leading a rich and satisfying existence in the aftermath of tragedy. In this sense, the prolific Chilean-American author stands out — without cynicism or earnestness — as one of the strongest and most authentic women?s voices in contemporary literature.

In one of the daily letters she exchanges with her daughter, Allende?s mother writes, "Child, we come into this world to lose everything. It costs nothing to let go of material things, what?s difficult is to give your loved ones their freedom." This prescient understanding captures the essence of The Sum of Our Days, which is so full of family members and friends, it?s impossible to pinpoint any one of their high-wire dramas and comical encounters as more significant than the others. One of the first chapters describes Allende?s stepdaughter giving birth to a baby and then disappearing; another chapter relays the author?s peripheral involvement in turning one of her novels into a movie (and her subsequent permanent crush on Antonio Banderas). All of the disparate plots are strung together as the summation of the family members? lives, recounted to Allende?s deceased daughter, Paula.

The epistolary style is one familiar to Allende, whose stunning 1982 debut novel, House of the Spirits, began as a private missive to her then 99-year-old grandfather. She adopted the form again for Paula, which she started writing while her daughter was in the hospital in Spain, and The Sum of Our Days picks up where it left off, as a conversation in which Allende sets out to relay everything that?s happened between 1993 and 2007.

This book is structured as a 300-page letter addressed to Allende?s daughter, who died in 1992 at age 28. Paula?s death and the yearlong coma that preceded it — caused by a rare metabolic disorder called porphyria — were the subject of Allende?s first memoir. Like Joan Didion?s Year of Magical Thinking, Paula possessed two arcs. The primary one was dedicated to detailing her daughter?s sudden lapse into a coma, from which she never awoke, while the other thread revisited their family?s history with deeply personal stories that underscored the impact of Paula?s absence. In The Sum of Our Days, the focus on Paula?s physical deterioration in the hospital is replaced with wildly entertaining stories about Allende?s family and anecdotes from her own life, everything from carrying the Olympic flag in Turin, Italy (trailing behind the glamorous Sophia Loren) to a secret love affair that caught everyone in their home off-guard.

The narrative clips along at a steady pace, due partly to Allende?s sense of humor and appetite for adventure. Averaging three to four pages each, these chapters offer flashes similar to watching an episodic — and shockingly well written — television show. Allende?s vignettes are filled with energy, and one prominently featured group of friends, dubbed the Sisters of Perpetual Disorder, "share their lives, meditate, pray for people," and, since Allende joined, also eat bonbons and sometimes go to the opera.

She writes eloquently of her second husband, Willie, an extremely hardworking lawyer to whom she has been married since 1988, following a divorce from her husband of 25 years. Their meeting was precipitated by Willie?s reading Allende?s novel Of Love and Shadows, about which he wrote in a note, "The author understands love the way I do," before showing up for one of her book events. Together, they?ve faced enormous difficulties that have strained their relationship to a near-breaking point. In the shadow of Paula?s death, Allende credited Willie as a reason to go on living, and she illustrates the sadness permeating their world not as "a paralyzing emotion but an awareness of the losses and difficulties that colored our reality." At times, theirs has been a hot relationship, no stranger to volatility, but at the end of the day, Allende says plainly, "I like Willie a lot."

In all three of her nonfiction works, including 1997?s Aphrodite — a memoir about the overlap between food and love that loosely blends folklore with Allende?s reminiscences — characters outshine plot. Allende writes all of her books in Spanish, and the excellent Margaret Sayers Peden then translates them into English. It?s a testament to both women?s skills that Allende?s memoirs about her daughter, like Didion?s, are notable for their perfect language, which renders the complicated stages of grief with exacting and empathic precision.

Vivian Gornick, Carolyn Steedman, and Simone de Beauvoir have mined the connection between mothers and daughters to great effect, but there is no living author who channels the subject with as much joy and gratitude as Allende. Her openness in describing the process of grieving for a lost child, as well as the travails of the relationships that developed or imploded in the years since Paula?s death, astonishes. As demonstrated by the book?s cover, Allende, even in her mid-60s, possesses the kind of beauty that comes from having lived fully. She makes repeated references to her height (too short) and her appearance (not what it used to be), but these admissions only serve to make her more attractive to the reader. By confessing secrets — her facelift, her family?s widely accepted view that Paula?s ghost inhabits their home (even after they move) — Allende makes for a credible storyteller. After making it clear that this writing is an address to her daughter, she lets it drop, allowing room to feel that she is, in fact, taking the reader into her fold. The close confidence of Allende?s tone invites identification not only to the perspective a mother who has lost a child but to a woman whose confessed challenge is staying out of others? problems until asked for help. Underneath the immense and unbearable pain of losing her only daughter lies the stuff of romantic comedies and soap operas — dishes to be done, family knots to be untangled or accepted, and, always, pages to write.

While offering up reasons why, after divorcing her first husband, she expected to be single for the rest of her life, Allende writes, "I have unusual work habits that cause me to spend half my available time alone, not speaking, in hiding." The flip side of this dedication to ritual, however, is her substantial body of work, covering a vast range of subjects. For the past 25 years, on the eighth day of January, Isabel Allende has started work on a new book; but when beginning this memoir in 2006, she hesitated for fear of offending relatives by exposing herself — and them — as material. What outweighed her fear was the motivation to tell a good story, which she?s done here, many times over.

For Allende, the sum of her days can?t be separated from her family — what she refers to as her tribe — and this book is, above all else, a testament to her unwavering loyalty to both her biological and chosen kin, whose joys and pains, and quotidian successes and disasters, reflect her profound investment in their lives; even after they?re gone, her loved ones are kept close.