The Hunger Games
The Hunger Games Foil Editions
See All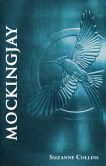 Paperback
Young Katniss Everdeen has survived the dreaded Hunger Games not once, but twice, but even now she can find no relief. In fact, the dangers seem to be escalating. Suzanne Collins' blockbuster series concludes in this thrill-packed final installment.
The Hunger Games on DVD, Blu-ray, and NOOK Video
Catching Fire and Mockingjay - books two and three in The Hunger Games Trilogy - are just as riveting as the first book.