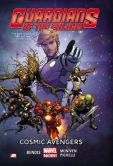 Paperback
Now through January 8th, 2015, buy any 2 DC Comics™ and/or Marvel™ graphic novels in our sale, and get a 3rd free! Choose from 4,000+ titles and stock up on your favorite superhero reads.
Shop now
.
This Season's Top Picks in Paperback
Pick up three great paperbacks for the price of two this season. Choose from hundreds of great books -- fiction, memoir, history, and more.
Shop now
.